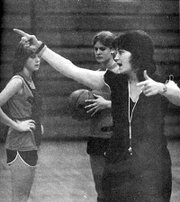 DALLAS -- Sometimes it was doughnuts. Sometimes it was pajamas. Sometimes it was a kind word or a kick in the pants.
But whatever it took, former Dallas coach Kathy Voves could and would find a way to motivate you.
"I guess I have a gift for getting something out of people that other people don't have," said Voves, who will be one of five inductees into the Dallas Athletic Hall of Fame on May 9. "I tried to make it fun. Some coaches you see leave that element out of it. I think that's one of the most important parts.
"I treated them like they were my own kids. I loved them and scolded them and everything else. I think I'm a pretty good motivator. I'm pretty good at getting people to go in the direction I want them to go."
The record backs up that statement. Voves started teaching and coaching in Dallas at Academy Junior High in 1970. Her seventh- and eighth-grade track teams were undefeated for four straight seasons.
She moved to the high school in 1974 and went 4-4 in her only season as coach of the girls junior varsity basketball team.
She took over as head coach the following year. Her first four teams were a combined 85-11 and reached the state tournament all four years. One of those victories was a thrilling come-from-behind win against Grants Pass in the consolation game at the state tournament.
"We were down 10 points with something like 1:50 to go," Voves recalled. "We came from behind to win the game. Everything went exactly like you would write it in a book. The timeouts were at the perfect time. We wanted to foul out their center, and we did. It was the most perfect ending. People we didn't even know were jumping around and hugging us. I get goose bumps even now just thinking about it."
Near the end of the 1983 season, son Brandon asked Voves a poignant and fateful question. "When are you going to stay home and play with me?" he asked his Mom.
"I'd better listen to this kid," was her answer.
So, after 123 wins -- including 55 straight in the Coast Valley League -- in 181 games, Voves decided to give up her job coaching basketball.
But she was back into coaching in a flash. The girls tennis coaching job at Dallas came open. Voves thought about it a bit, set up a few parameters and soon had another team to direct.
"I wanted to spend more time with my family, but I thought I would miss the daily contact and interaction and getting to know the kids," Voves said. "I interviewed for the (tennis)_ job. I said, 'If you want me, I will do it under these terms.' I will not practice during spring break. We will have vacations. I will not do a summer program. I will coach during the season and give you 100 percent. I can't give you the rest of the calender year. They said OK."
And they no doubt were glad they did. Voves coached tennis for 17 years at Dallas, posting a record of 188-36-9. Her teams won 11 straight league titles and sent 63 competitors to the state tournament. She was the OSAA girls tennis coach of the year in 1990 and was recognize by the Dallas Area Chamber of Commerce as Educator of the Year in 1999.
And this is where the doughnuts and pajamas come in.
"They used to have these doughnuts called UFOs," Voves said. "We said that anybody who gets a certain score will get a UFO. Pretty soon, everybody was running around saying they're going to get a UFO. It was unbelievable what you could get out of the kids with those UFOs.
"For the seniors, we made tennis rackets and put pictures in them. We made little dogs out of tennis balls and gave them away as awards. We'd have pajama practices, and everybody had to wear their pajamas. The kids didn't even realize how hard they were working at those pajama practices."
Other 2008 inductees are three-sport athlete (and founder of Richardson Athletic Co.) Neil Richardson, boys basketball coach Gordon Kunke,longtime athletic supporter Joe Hayward Ford and the 1959 Class A-2 boys basketball state championship basketball team.
Tickets are $25 apiece and can be purchased at Dallas High School.