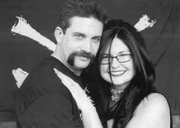 Holtsclaw-Davis
G. Marie Holtsclaw of Dallas and Shawn Adam Davis of Dallas were married March 22 in an outdoor wedding at the Polk County Courthouse.
Ben Peterson, youth minister, officiated the ceremony.
The bride is the daughter of Marjie Johnson of Dallas and the late Ira Johnson. The groom is the son of Michael and Laura Davis of Amity.
Maid of honor was BettyAnn Martin and bridesmaid was Heather Davis. Flower girl was Hannah Davis and ring bearer was Tim Holtsclaw.
Best man was William Parker and groomsmen were Nicolas Holtsclaw, Scottie Holtsclaw, Bradley Holtsclaw and Austin Holtsclaw.
Marie, a 1988 graduate of Dallas High School, attended Chemeketa Community College. She is a 1991 graduate of Dallas Beauty College and works as a nail technician at Envy Spa Salon in Dallas.
Shawn, a 1985 graduate of Perrydale High School, attended Western Oregon University. He is cook supervisor at the federal correctional institution in Sheridan.
The couple honeymooned in Seaside and Lincoln City and make their home in Dallas.
More like this story