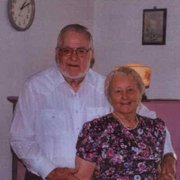 Staggs - 60th
Bill and Betty Staggs of Dallas are celebrating their 60th wedding anniversary with a quaint dinner together on Tuesday, May 6.
A trip to Central Oregon and Klamath Falls is being planned for the near future.
Billie Ray Staggs and Betty Jane Hein were married May 6, 1948, by Judge Fred Bowman in Vancouver, Wash.
Their attendants were Gracie Hein, Pearl Burgett, Ezra Staggs and Calvin Staggs.
The Staggs have lived in Polk County for 50 years, but have also resided in Toledo, Myrtle Creek, Albany and Redmond.
Bill was a millworker for Willamette Industries and Willamina Lumber, where he retired from in 1987. Betty continues her homemaking.
For years, the couple enjoyed camping, fishing, hunting and rock hunting. They worked with Craftsmen for Christ building churches.
The Staggs attend Salt Creek Baptist Church. Betty enjoys sewing, quilting, genealogy and scrapbooking the historical changes in Dallas since 1948.
Their family includes Michael and Debbie Weston of Kalispell, Mont., Thomas and Patricia Autry of Dallas, Kevin Staggs of Modesto, Calif., and Bill and Catherine Staggs of Salem. They have nine grandchildren, 16 great-grandchildren and one great-great-grandson.
More like this story