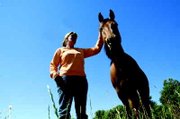 POLK COUNTY -- It would be a stretch to call Abiding Acres southwest of Independence an animal preserve, owner Jennifer Fraley said.
But that was the atmosphere she was going for when she set out to create her natural horse boarding facility, she said.
On a wide-open expanse of her 60-acre property, a half dozen horses of different breeds graze upon orchard grass, clover and other vegetation.
They move slowly from plot to plot, and as a group. In a few hours, Fraley will gate the section off and open another elsewhere, which prompts the little herd to wander for their meal.
"They're pretty easygoing," she said. "There are no real rabble rousers."
Fraley has done natural horse boarding for more than two years. In February, she incorporated and expanded the scope of her business, turning it into one of only a handful of public operations of its kind in the state.
Natural horse care entails many concepts. But at its essence, it's crafting an environment that mimics the surroundings and lifestyle of feral horses to improve an animal's physical and mental well-being, Fraley said.
"We take the innate sense of who they (horses) are and separate them into a stall, which would be comfortable for us," she said. This "is looking at it from the horse's perspective, not ours."
Fraley's property contains pasture for grazing, an oak grove for "camping," dust beds, run-in sheds, a small arena for riding and other features.
Those areas are linked together by 2 miles of 10- to 40-foot wide corridors lined with rocks, sand and dirt that sit along the interior of the perimeter fence. Fraley plans on adding another 3 miles of "track" next year.
The horses are free to wander the property all day -- they're corralled in the evening -- and can access different spots by traveling on the track.
Fraley opens and closes gates to pastures at different times of the day. Because the routes themselves are nearly devoid of vegetation, the horses are forced to search for their food. The varied terrain also hardens and naturally rasps hooves.
Horses have been a life-long passion for Fraley, who grew up riding in Oregon City and continued even while working as a firefighter-paramedic in Salem. She and her husband purchased and moved to their property in Polk County in 1998.
A back injury sustained in a 2006 car wreck forced Fraley to give up her career, so she pursued her dream of owning a boarding facility.
A friend turned Fraley on to a book by Jamie Jackson, a professional farrier who studied feral horses for several years and has championed natural horse care practices.
"I was just going to do a normal business," she said. "And my first thoughts were that there has to be a different way to board."
But after reading the book, "it went to why doesn't everybody do it this way," said Fraley, who operates Abiding Acres with the part-time aid of a veterinary assistant. "Horses are athletes, they're muscular and they need to move."
Stalls, paddocks and pasture boarding -- in which the horse is turned out for long periods of time -- are the three primary boarding options, with the latter the ideal situation, said Dawn Sherwood, an equine professor and specialist for the Oregon State University Extension Service.
"It's been shown that horses that are out on pasture grazing 24/7 have a healthier gastrointestinal tract and don't have the issues performance horses have," she said.
"I've not seen in this area -- or anywhere I've lived -- the track system, which stimulates exercise," said Sherwood, who has worked in several Western states. Fraley "has a pretty good setup."
Another major focus of the boarding operation is social interaction through herds, Fraley said. Horses confined to stalls for long periods of time develop vices, such as chewing on its stall, bolting, weaving (swaying back and forth), and other bad habits.
"Horses were not initially (meant) to be in box stalls and be isolated by themselves," Sherwood said. "That's why a lot of time, you see horses with ... mental issues."
Fraley introduces new horses to the herd gradually, taking weeks if needed to allow them to adjust to being around other animals if they're not accustomed to it.
Fraley boards about a dozen horses, mares and geldings, of different breeds ranging from mustangs to Belgians. Two are hers and the rest belong to clients who've sought her out by referral or through her web site.
"Every time we introduce a new horse into the herd, the dynamic changes," she said. "They compete for dominance."
One of the newest additions is Soggy, a thoroughbred who shares bloodlines with Secretariat.
Soggy was a race horse and hunter-jumper for most of his 15 years, said owner Teresa McKinley, who recently moved to Salem from Dana Point, Calif.
McKinley said Soggy had a large stall and daily turnout at his old facility in California, but required more exercise.
"It was a difficult life," she said. "Thoroughbreds are high strung ... their needs can't really be satisfied by riding."
Soggy has mellowed considerably at Abiding Acres, but is still acclimating to the concept of eating grass on the ground, McKinley said.
"He looks at it as if to say 'can it really be true?'" McKinley said. "He's definitely much happier here."
Abiding Acres is located at 8830 Stapleton Road, Independence. For more information: 503-851-8507 or www.abidingacres.com.