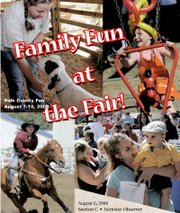 If You Go ...
What:
Polk County Fair.
When:
Thursday, Aug. 7, 10 a.m. to 10 p.m.; Friday, Aug. 8, 10 a.m. to 10 p.m.; Saturday, Aug. 9, 10 a.m. to 10 p.m.; Sunday, Aug. 10, 10 a.m. to 6 p.m.
Where:
Polk County Fairgrounds, 520 S. Pacific Highway (99W), Rickreall.
Admission:
Adults, $6; seniors (62+) and juniors (11-15), $3; 10-and-under, free.
Parking:
Free.
Information:
503-623-3048; www.co.polk.or.us/fair.
Inside today's I-O:
A special section previewing this year's Polk County Fair.
RICKREALL -- Animals and amusement rides, crafts and cooking contests, food and fine arts, a talent showcase and a truck and tractor pull. There just might be something for everyone at the 2008 Polk County Fair.
The 89th edition of one of the largest and most popular events on Polk County's annual calendar opens its doors to the public Thursday at 10 a.m. to kick off four days of fun.
And speaking of fun, "Family Fun at the Fair" is the theme for this year's fair.
"The Fair Board comes up with our theme every year, and this year's is really appropriate," said Tina Andersen, fairgrounds manager for Polk County. "We're so family oriented. We try not to nickel-and-dime families when they come here. Kids 10-and-under are admitted free, and no one else in this area does that. Events are family oriented. We have an area exclusively for kids once they are inside the fairgrounds. Everything is designed with families in mind."
In keeping with that theme, it is no wonder that youth programs are a vital part of the event.
"The 4-H and FFA activities are the heart of the fair," said Andersen. "These groups are very important to us; it's why the Fair Board and staff work so hard all year to keep the fairgrounds open."
And while the snow cones, cotton candy and carnival rides are another big part of the fair each year, it's the animals -- big and small -- that keep people coming back every summer.
"The animals are the most popular exhibit at the fair for all ages," said Andersen, who also noted that the Polk County Fair Talent Showcase is another drawing point for visitors.
The talent competition takes place over three days, starting Thursday for youths and juniors at 5 p.m. Adults show off their talents Friday beginning at 5 p.m., and the top contestants from the two days meet in a talent showcase Saturday at 6 p.m. Top prize in the adult division is $1,000; $500 in the youth category.
In addition to the usual popular events, Andersen is excited about several new happenings at this year's fair.
Hart's Reptile World, featuring a 50-pound crocodile skull among other things, is open daily. A Kids Kruise In, a 25-and-under car show, is scheduled Sunday from 10 a.m. to 2 p.m.
Opening ceremonies to formally kick off the 2008 fair are scheduled Thursday at 1 p.m.
Among the other highlights of this year's county fair is a performance by Joe Shinkle and 99W Friday at 8:30 p.m. at the fairgrounds arena, the Northwest Youth Rodeo Association competition Saturday and Sunday starting at 10 a.m. both days, the 4-H and FFA Youth Livestock Market Auction Saturday at 6 p.m., and a tractor and truck pull competition Sunday at 1 p.m.
If that's not enough to whet your appetite, then consider entering the corn on the cob eating contest Sunday at 11 a.m or the watermelon seed spitting contest Sunday at 12:30 p.m.
More than 16,000 visitors attended the last year's fair, and Andersen said she expects anywhere from 15,000 to 20,000 in attendance this week -- depending on weather conditions.