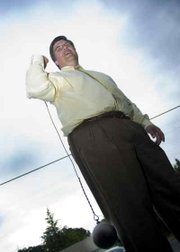 INDEPENDENCE -- The experience of hammer throwing is an "unnatural feeling," John McArdle said.
You swing a steel wire attached to a 16-pound iron ball in an arc above your head and below your knees several times, then rotate your whole body around while hanging onto the object, creating a sensation akin to being yanked into a 60 mile-per-hour pirouette.
"You only get dizzy," McArdle said, "during the first 1,000 throws."
Long before he was mayor of Independence and development director at Linn-Benton Community College in Albany, McArdle was a world class track and field hammer thrower.
As a 23-year-old fresh out of the University of Oregon, he qualified for the 1980 Summer Olympics in Moscow. The United States boycott of the event prevented him from competing on the world's ultimate stage.
There is, of course, disappointment from losing out on the opportunity, McArdle said. But not enough to dwell on almost 30 years after the fact.
"You get past those things because you have to," said McArdle, 51, who would later become involved in Olympic administrative and planning duties until 2004.
"In baseball, if you don't like the umpire's call, you have to pitch again in 20 seconds," he said. "You move onward."
McArdle and almost 100 other members of the 1980 team were honored at a reunion during the U.S. Olympic Team Track and Field Trials at Hayward Field in Eugene in June.
Like millions of Americans, he'll tune in when the Beijing Olympics begin this Friday.
"Everybody loves the passion that exists" in the games, he said, "whether it's the Parade of Nations or seeing an athlete do something nobody else has ever done."
--
"Big John," as he was and is still known, participated in multiple sports at North Salem High School before enrolling at the University of Oregon in 1976.
He played football his first year there and wanted to throw the discus or shot put for the track team.
Then coaches "said we had a bunch of recruited athletes for shot, but nobody for hammer," McArdle said. "So they told me to learn that."
McArdle excelled -- he was an All-American twice -- and the Ducks won two conference titles in the late 1970s.
McArdle said he remembers sitting in a Eugene pizza parlor a few months after graduation in 1979 with Lynn Winbigler Anderson, a discus thrower and fellow Olympian, who convinced McArdle to compete for a spot on the 1980 Olympic Team.
He underwent a grueling training schedule for nine months before the U.S. track and field trials, which were held at Hayward Field.
"You start to count your throws in thousands and the lifting you do in tons per workout," said the 6-foot-4 McArdle, who bulked up then to 280 pounds.
In February 1980, President Jimmy Carter issued an ultimatum, encouraging a United States boycott of the Moscow Games if the Soviet Union didn't withdraw from Afghanistan, which it invaded a year earlier.
The U.S. Olympic Committee's House of Delegates voted not to send a team in April, while McArdle was at a training camp in Dallas, Texas.
Asked by a television news reporter his feelings on the matter, McArdle answered, "I think the president is a jerk!"
"I didn't think much of it at the time," McArdle said. "In the evening, we walked back into our hotel, and there on the news was my face."
Lee Palles, a decathlete on the 1980 Olympic team and a friend of McArdle's, said in an e-mail interview that he was in "disbelief" and that "I started to get a sinking feeling as more nations joined the boycott."
"Anyone who knows the history of the Olympic games knows that the Greek-city states halted wars and put down their weapons in order to compete," he also wrote. "I thought we would do the same...(but) it was simply political saber-rattling, or non saber-rattling?"
Competitors in the "Trials to Nowhere" held out hope that "we would still be able to go somehow," McArdle said. He finished second in his event with a throw of 230 feet, 11 inches, and made the team.
"I was thrilled ... I set a goal and I accomplished it under pressure," he said, adding that his event, located away from Hayward, drew about 4,000 spectators, a much larger crowd than usual. "I wasn't picked to do well."
Of course, the boycott did happen. McArdle said he was torn then, and to this day doesn't believe it was effective.
"And I feel like we lost a whole set of people who could have been role models to a generation," he said. "There was no positive gain.
"But I learned an important lesson in that even though you work hard for something and it doesn't happen, you don't stop," McArdle added.
--
McArdle continued to compete until the early 1990s as part of the U.S. National Team and went to the Track and Field World Championships in 1983 in Helsinki, Finland.
He came up short at the 1984 Olympic trials -- "I didn't throw well at tryouts and got beat" -- and was an alternate for the 1988 Games in Seoul.
By now, he had begun to transition into a leadership role as a board member for USA Track & Field, a governing body for the sport, and was on various U.S. and international Olympic committees. From 1998-2000, he was a member of the U.S. Olympic Board of Directors.
McArdle said his job was to give a voice to the athletes and that "I'd like to think I got back at them (the U.S. Olympic Committee) by being part of the administrative side," McArdle said with a chuckle.
Among his committee tasks were helping select United States athletes and coaches, as well as oversight of housing, training and facility issues at each Olympic games location from 1994-2004.
McArdle said there were major logistical challenges to handle.
"What do you do with 10,000 athletes?" he said. "If the U.S. softball team has an evening game," he said, "how do you get their uniforms ready for the next game at 9 a.m. the next day? Where do you get them washed, who washes them and when?"
McArdle stepped down from Olympic duties in 2004 and said he hasn't competed at a track meet for about a decade. "I've traded in working with athletes to working with the public."
What he misses most is camaraderie with athletes from different parts of the world, whether it was having pizza and beer with Russians or watching Israeli and Arab athletes toss a Frisbee around.
Regarding the Olympics, more important than competing is the lessons the process bestows, McArdle said.
"It's about international understanding, setting goals, working hard and understanding each other," he said. "Those are important skills that have translated into my personal and work life."