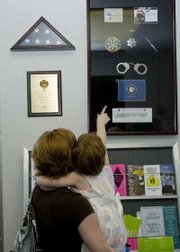 Operation Homefront
receives grant
Operation Homefront Oregon of Monmouth has been awarded a $5,000 grant from the Siletz Tribal Charitable Contribution Fund.
The grant, presented earlier this month, will be used by Operation Homefront Oregon for backpacks filled with school supplies, a gift box program and the blankets for soldiers program.
Operation Homefront Oregon was one of 40 organizations to share in nearly $168,000 in grants awarded Aug. 1 by the Confederated Tribes of Siletz Indians.
Food preservation
class scheduled
A free food preservation class coordinated by Dallas Resource Center and Grace Baptist Church is being offered on Thursdays beginning Aug. 14.
The class, which runs for six weeks, will meet at 6:30 p.m. in the kitchen at Grace Baptist Church, 1855 E. Ellendale Ave. in Dallas. Demonstrations will include canning, dehydrating, pickling, jam making, and other tips on food preservation.
Dallas Resource Center plans to create a library of food preservation tools for people to borrow. Donations of food preservation equipment are being accepted.
For more information: 503-623-8429.
Community karate
class to resume
"Karate for Everyone," a non-contact martial arts program for all ages, returns to Dallas with a four-week session scheduled to begin Thursday, Aug. 14.
The class, instructed by Kristy Mitchell, gathers on Thursdays at the Morrison Gym in Dallas. Youths ages 8-15 meet from 6:30 to 7:30 p.m., and those ages 16 and older meet from 7:30 to 8:30 p.m.
Cost is $30 for individuals or $45 for families per four-week session.
For more information: Dallas Intercommunity Activities Network, 503-507-5240; michelec@dallasican.org.
WestFest celebration
set for this Friday
The West Salem Business Association is hosting its annual WestFest celebration Friday, Aug. 15, at Wallace Marine Park.
WestFest 2008 will feature a free concert by Quicksilver Messenger Service and David and Linda LaFlamme starting at 6:30 p.m. The event -- gates open at 5 p.m. -- will also include food and beverages for the whole family.
Due to limited parking available at Wallace Marine Park, Cherriot buses will be providing a free shuttle from West Salem High School and the downtown Salem transit mall.
For more information: Terry Kelly, 503-362-3601; www.wsba-westsalem.com.
Health screenings
offered by Lions
The Central Lions Club is hosting a mobile health screening session for the community on Saturday, Aug. 16, from 10 a.m. to 4 p.m. at Central Plaza in Independence.
The Lions' mobile health unit is open to the public and provides free screening for vision, hearing, diabetes and blood pressure.
Those wanting a diabetes test must fast (no food or drink other than water) for four hours prior to the test.
For more information: Kathy, 503-838-0611.
Community health
fair in Independence
A community health fair open to the public takes place Saturday, Aug. 16, from 11 a.m. to 3 p.m. at Colonia Amistad, 30 S. Gun Club Road, in Independence.
Health screenings will be available at no cost, and several vendor booths with representatives from various health service organizations and public safety agencies will be on hand to answer questions.
The activity is being held in conjunction with the Central Lions Club's mobile health screening event.
For more information: Juan Venegas, 503-838-0644.
'
Bite of Beef'
set for Sunday
The "Bite of Beef" is set for Sunday, Aug. 17, from 1 to 6 p.m. at McK Ranch, 3415 Ballard Road in Dallas.
The event will include McK Ranch grass-fed beef, food prepared and served by Capricorn Catering, and wines from Illahe Vineyards.
Joe Shinkle & 99W are scheduled to perform, there will be business vendor booths and children's activities, and guest speakers will talk on topics ranging from honey bees to beef grading and grass-fed beef programs to conservation programs.
Cost, which includes meal and beverage, is $30 for adults and $14 for children 11 and younger.
For more information: Jan Lyda, 503-623-5001; www.mckranch.com.
Donation of school
supplies accepted
Jefferson Manor is collecting school supplies this month to distribute to Dallas youth in need during the 2008-09 school year.
Items sought include backpacks, notebooks, paper, pens, pencils, rulers, and crayons. Supplies will be distributed by Dallas School District.
Donations of supplies and money may be brought to Jefferson manor, 664 SE Jefferson St., Dallas, between 9 a.m. and 5 p.m. Monday through Friday.
For more information: Joy, 503-623-8104.
Kinsey reunion set
at Dallas City Park
Descendants of Jacob and Caroline Kinsey of the Dallas and Pedee areas are holding a 25th-annual family reunion and potluck Sunday, Aug. 17, at 12:30 p.m.
The reunion takes place under the gazebo at Dallas City Park at the Academy Street entrance.
Attendees should bring a food dish, their own tableware and utensils, and lawn chairs. Coffee and punch will be furnished.
For more information: Cora Dickason, 541-754-1321.
Seminar
to address
smoking in workplace
An informational workshop clarifying new rules and regulations regarding smoking in the workplace is set for Tuesday, Aug. 26, in Dallas.
The workshop, to be held at the Academy Building, 182 SW Academy St., starting at 7:30 a.m., will be hosted by Randi Harris, Polk County Public Health's Community Tobacco Prevention Coordinator. The one-hour presentation will include a light breakfast and coffee.
The new regulations, part of the Oregon Smoke-Free Workplace Law, take affect Jan. 1, 2009.
Reservations are required. Deadline to RSVP is Tuesday, Aug. 19. For more information: Randi Harris, 503-623-8175 (Ext. 2302); harris.randi@co.polk.or.us.
Dessert to honor
Manor volunteers
The public is welcome to honor Jefferson Manor volunteers at an appreciation dessert on Thursday, Aug. 21, at 664 SE Jefferson St. in Dallas.
The event begins at 2 p.m. Reservations are required and must be made by Tuesday, Aug. 19. For more information: 503-623-8104.
MINET will host
community barbecue
MINET is hosting a public barbecue for residents of Monmouth and Independence from 1 to 6 p.m. on Wednesday, Aug. 20. The event is to show MINET's appreciation for the community's business and support.
Raffle prizes include a big-screen HDTV, Play Station 3, iPod, and a pair of Beavers and Ducks football tickets.
The barbecue takes place at the MINET office at 405 Hogan Road N. in Monmouth.
For more information: 503-837-0700 or visit www.minetfiber.com.
Polk SWCD vole
program continues
Applications are still being accepted for a vole control program offered through the Polk Soil & Water Conservation District.
A grant from the Western Integrated Pest Management Center funds the vole control program, which encourages attracting birds of prey, the natural predators of voles, to occupy infested areas.
Implementing natural pest control practices will assist in controlling crop damage caused by voles. The program provides raptor nest boxes and reimburses landowners for raptor perch construction.
Deadline to apply for the program is Thursday, Aug. 21. For more information: Lisa, 503-623-9680 (Ext. 103).
DHS Class of '98
to hold reunion
Dallas High School's Class of 1998 will hold its 10-year reunion Aug. 22-24.
Classmates will gather for a time of socializing at 7 p.m. on Friday, Aug. 22, at North Dallas Bar and Grill, 170 E. Ellendale Ave. Dinner and music is planned at 6 p.m. Saturday, Aug. 23, at Eola Hills Winery, 501 S. Pacific Highway W., in Rickreall. And a family barbecue will begin at noon on Sunday, Aug. 24, at Dallas City Park.
Cost of the Saturday dinner is $30 per person. Reservations and prepayment are recommended and may be mailed to DHS Class of 1998, P.O. Box 1566, Tualatin, OR, 97062-1566. Dinner cost is $40 per person at the door.
For more information: http://home.comcast.net/~dhs_classof1998/ClassReunion/; or call Suzanne (Archer) Talmadge, 503-831-3712.
Auction will benefit
arts in
Falls City
The Falls City Arts Council is soliciting donations of clean, salable items for its September fundraising auction.
The auction is scheduled Saturday, Sept. 13, at Falls City Fire Hall. A silent auction will begin at 4 p.m. in the training hall. An oral auction begins at 6 p.m. in the fire truck bay with auctioneer Jerry Carter officiating.
Funds generated will be used to bring a variety of artistic performances and events to Falls City, such as the Talent Showcase held last spring.
Lists to record donations are available at several Falls City locations, including A & N Hometown Grocery, City Hall, Boondocks and Wagner Community Library.
For more information or to make a donation: Gladys, 503-787-6105; Tom, 503-787-4311.
More like this story