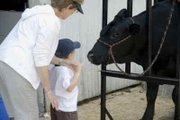 RICKREALL -- The smell of fried foods, sugar, ketchup and a hint of livestock could only mean one thing -- the Polk County Fair was rockin' at the fairgrounds.
Crowds braved the windy and sometimes overcast weather Aug. 7-10 to watch the youth rodeo, browse vendor booths, purchase market animals through the 4-H and FFA youth livestock auction, see the blue-ribbon elephant garlic, and, of course, load up on hot dogs and ice cream before taking a ride on The Tornado.
The stars of the county fair are really the 4-H and FFA students who exhibit projects they have worked on all year. They grew produce, baked cookies, constructed scarecrows, and paraded their beloved animals before the judges or buyers.
Tabitha Mueller, a 12-year-old from Willamina, was in the cow barn taking care of her 17-month-old heifer Bessie. She is part of the 4-H club "Crazy Critters" and came to show her cow and sell it at the auction Saturday night.
She said she arrived at the fair at 6:25 a.m. each morning of the fair, fed Bessie, cleaned the stall, replaced the sawdust and cleaned her heifer until she sparkled. Mueller said she has learned a lot since getting Bessie as a calf and training it.
"You need to work hard for the things you want to do and if something doesn't work out try again," Mueller said.
She said she plans on showing cows until her senior year of high school and hopes the county can keep 4-H alive despite budget cuts.
"It's sad because it really does help a lot of kids gain confidence," Mueller said.
On Saturday, there was a 4-H fashion show where girls modeled skirts, aprons, pajama bottoms, shirts and dresses they had created. The creators acted as models as well and had to be doubly talented to best show their garments.
On the other side of the fairgrounds, young cowboys and cowgirls were competing in barrel racing and trying to rope calves in the fastest time during the Northwest Youth Rodeo Association event. Spectators crowded into bleachers with kettle corn in hand to watch the action.
Diane Silberstein, a 4-H youth director, said even though there wasn't enough money to award premium money to the youth exhibitors, she hadn't noticed a decline in participation.
"(The numbers) were just right on target," she said. "It was really good to see. I haven't heard one complaint about not having premiums. Our economy is tough and kids recognize that."
As for the vendors, business was booming.
Thursday and Friday were slower, but Kathleen Watson, who had an embroidery booth, said the crowd was larger on Saturday when it was cooler outside.
She had come to the fair to give back to the kids, she said. A former 4-H horse leader, Watson spread the word to children that she would embroider their 4-H clothes for free with their names.
It was her first year as a vendor at the fair, but said she was enjoying the experience because the environment was safe and full of community spirit.
The Talent Showcase Finals entertained the crowd for four hours Saturday night.
Show Manager Steve Springer said the winner of the adult division, Timothy Chiles and the Poniania Project, were definitely a spectacle.
"They had the place rockin,'" Springer said.
The gospel group from Portland sang "Have You Met the Man," written by Chiles.
Makenzie Bassham, a 14-year-old from Hood River, took first place in the junior division by singing a song by Sugarland.
Springer said at least 700 people watched the 35 finalists compete Saturday night.
Also on Saturday night, the 4-H and FFA Youth Livestock Auction, sponsored by the Polk County Livestock Association, drew a standing-room-only overflow crowd. One of the evening's sale highlights was a market goat raised by Stacy Eash of Independence that sold for $15 a pound.
On Sunday, the competition revolved around food rather than singing and dancing.
Competitors sat at large tables on stage to see who could eat three ears of corn the fastest. After three heats of different age groups, the crowd witnessed children and adults use different techniques to gobble down kernels.
The contestants were absolutely covered in corn, wiping it out of their ears and gagging from trying not to chew to swallow more quickly.
In the end, Paul Burger of Dallas, a first-time competitor, blew the rest out of the water. His advice was simple.
"Chew, chew, chew, chew and try and swallow," Burger said.
The watermelon seed spitting contest was a bit more laid back event. Spitters lined up, a seed in their mouth, and made comical faces full of effort as they tried to spit the farthest on the stretch of white paper before them.
Seeds were spit as far as 239 and 295 inches.
The fair closed Sunday night with award ceremonies and everyone packed up their exhibits and animals for the ride home.