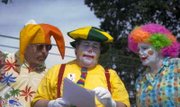 DALLAS -- He woke up at 6:30 a.m., applied light white base foundation on his face, green on his eyebrows and yellow on his cheeks.
Chris Scadden eased into his rainbow-colored pant- and T-shirt-combo and oversized Converse sneakers, taking care to lift his feet a little higher as he walked up the stairs. He safely grabbed the 700 balloons he inflated the night before and headed out the door to celebrate in Dallas at the festival whose theme he inspired.
Scadden's performance as C.J. the Clown has been a staple at Summerfest since he and his wife Marian performed shows for children while the festival was still called Krazy Dayz.
Chelsea Pope, executive director of the Dallas Area Chamber of Commerce, was looking at photos of last year's Summerfest and noticed children were always smiling when interacting with C.J. She said she believed a clown theme would be great for this summer, and the whole town embraced the silliness.
"It was a lot of fun to be recognized in that way," Scadden said. "The people of Dallas treated (all of the clowns) well."
The morning of the big parade this year, Chris and Marian had opened all of the chalk for drawing on the street, gathered decorative beads and met the other clowns downtown for the pre-parade activities. They had a big job to do.
He said the crowd was pretty sparse at first, but grew in size. He and 11 other clowns passed out the balloons, chalk and necklaces and then made rounds tying the balloons into swords, animals and hats.
"It's always fun to have the little guys come up and want their balloons twisted," Chris said.
The parade announcer introduced him to the crowd by the main platform and he said he enjoyed his moment of glory.
However, this is just a typical day's work for Chris Scadden.
Right after the pre-parade activities, he was off to a barbecue in Carlton followed by the Children's Educational Theater in Salem. He said he finally made it home around midnight and Marian said she napped until 7 p.m. on Sunday to recover.
However, despite phone calls to the chamber expressing concern about the theme as many are afraid of clowns, Chris said he didn't have any problems on the big day.
"(My people and I) went through the entire parade route and never once did I have anybody be scared of me," he said. "Little tiny kids shied away a little bit until they saw me doing balloons and then they were fine."
Clowning runs in the family, too.
The two youngest of the four Scadden children, Ian, 18, and Hannah, 11, also juggle and make balloon animals with mom and dad. They have been out during Summerfest pre-parade activities as long as Chris and Marian have been involved, Marian said.
Not only is Chris the self-proclaimed only bilingual clown in Oregon with his Spanish skills, he also acts as Santa Claus, the Easter Bunny and Norman the Nerd. He has come a long way since an agent in Los Angeles told him he was too "white bread" after trying to make it in Tinseltown.
Both he and Marian attended Brigham Young University, where he studied professional acting and she studied children's theater.
After L.A. didn't work out for the couple, Marian traveled to schools in Bakersfield, Calif., performing for children and Chris used his bilingual talents from a mission trip to Peru to work for the school district as a first-grade teacher.
Sick of the high desert, droughts and smog, the couple took their babies to Dallas after Chris scored another teaching position in the Salem-Keizer School District in 1992.
C.J. the Clown made his debut at the Polk County Fair, when fair manager Tina Andersen heard about Chris' on-the-side singing telegram service and requested a clown to tie some balloon animals about six years ago, Chris said. He borrowed a wig, big shoes and a one-piece jumpsuit -- and a star was born.
Chris and Marian continue to be active in children's theater, put on murder mystery dinners and own their own company called "cwerks" that supplied the clowns for Summerfest this year. Chris will also teach Spanish classes at Chemeketa Community College this fall.