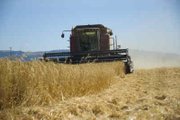 POLK COUNTY -- It's late morning and already above 80 degrees as Gus Quiring's combine rolls through 40 acres of wheat north of Rickreall.
The big red Case IH trundles in a straight line from south to north, pulling wheat in through the reel and spewing out clouds of chaff and straw from the rear.
This is the last full day of harvest for Quiring and his sons, Ken and Ron. Like other farmers in Polk County, they deal primarily in grass seed.
Before wheat prices dropped during the early 1990s, however, they regularly devoted most of their acreage to the golden grain.
"We used to say now that we have the grass out of the way we can get to the real harvest," Ron Quiring said with a laugh.
For much of the past decade, the Quirings grew small parcels of wheat as rotational crops. But a jump in wheat prices last fall -- the commodity currently fetches more than $8 per bushel -- prompted them to plant wheat on 230 of their 1,100 acres after planting none in 2007.
"It should be a good crop this year," Ken Quiring said. "We're hoping the market makes another run before we sell."
Those sentiments are echoed by many farmers across Oregon who wrapped up their wheat harvest this past week.
Roughly 1 million acres of wheat were planted in the state for the 2007-08 season, up from 855,000 acres the prior year, according to the Oregon Department of Agriculture (ODA).
Wheat ranks low among agricultural commodities in Polk County compared to grass or dairy products. Still, there was a sizable spike in wheat production here in 2008.
Gene Pirelli, Oregon State University Extension Service specialist for Polk County, estimates the acres of planted wheat grew from 3,000 in 2007 to 15,000 this year.
"You have to go back about 25 years when wheat was a major commodity here," Pirelli said. "It's still not what it used to be, but came back pretty strong (this year)."
Worldwide demand has driven wheat's price up and facilitated increased planting in Oregon. Drought conditions in Australia and poor weather in Canada dropped the world's wheat supply to its lowest level in the last 30 years. Until last year, wheat hovered around $3 per bushel, ODA said.
"A greater demand for some grains (corn) for ethanol production has caused a reduction in supply of other grains," Pirelli said. "When one commodity is pulled out of the market, a lot of farmers will come in to fill the void."
Most Oregon wheat is of the soft white variety and is exported to Pacific Rim nations. And the majority of the crop is grown in Eastern Oregon, where the arid environment translates to commodities like wheat that don't require regular irrigation.
But "many Willamette Valley growers are taking advantage of the high prices to work in a rotational (wheat) crop with grass seed," said Mike Flowers, cereals specialist with the Oregon State University Extension Service. "In the past, wheat didn't bring back enough money to provide an incentive to grass seed growers."
Flowers also said he expects a yield of about 100 bushels per acre or more in the Willamette Valley, more than twice what is expected in Eastern Oregon.
While the Quirings are expecting a solid crop, they're not ready to celebrate just yet. Oil prices, the cost of renting land and other farming inputs have risen just as dramatically as wheat prices. Their production cost is between $350 and $400 per acre.
"A couple of years ago, we would have been all excited," Ken Quiring said. "But because fuel and fertilizer (expenses) have gone up, we have a higher break-even mark."