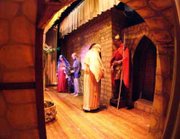 RICKREALL -- Of the events in Polk County heralding the start of the holiday season, few carry the sense of tradition as the annual Rickreall Christmas Pageant.
Now in its 68th year, the performance is a retelling of events leading up to and through the birth of Jesus Christ. Dialogue mirrors passages in the King James version of the Bible.
The ambitious production will be staged for three consecutive nights beginning Thursday, Dec. 4. As always, it will take place in the 486-seat auditorium of the old Rickreall School, and will be handled by an all-volunteer cast, choir and stage crew of about 150 from Rickreall and surrounding cities.
And "we have many pageant members who volunteer their time and resources to support the pageant as well," said Mary McCarron, director.
McCarron said promotion for the program started in July and that it helped attract new first-time members.
There have been a few changes for this year's program, such as not opening the final dress rehearsal to the public. McCarron said this lets the cast fine-tune their performances for the real shows.
"For example, we might want to repeat a choir song or scene," she said. "Yet, we don't feel as comfortable doing this when the public is present." McCarron said this would also encourage more people to attend the regular pageant dates.
Another addition was the revival of the "Community Christmas Card," a sign once posted outside the school that doubled as a fundraiser by inviting people to purchase plaques that are then added to the display.
The "card" hasn't been used since the school closed a few years ago. A plaque costs $10 and funds raised this year will pay for costumes, set repairs and replacements, and additional music.
Tickets are still free -- as the play's founders intended -- but donations are encouraged at the door. Proceeds go toward supporting the pageant.
Performances of the Rickreall Christmas Pageant begin at 8:10 p.m. on Dec. 4, 5 and 6. Doors open at 7 p.m.
Tickets and plaques are still available by request, via e-mail at christmaspageant@earthlink.net or by calling 503-623-4720.