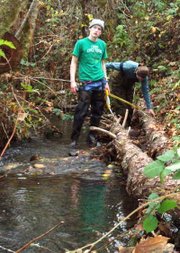 KINGS VALLEY -- Matt North of Monmouth and his teammate, Juliette Sprague of Philomath, teetered across giant Douglas fir logs to get to the other side of Plunkett Creek.
The two Kings Valley Charter School freshmen were among nine of the school's biology students who donned waders and shivered through a crisp November morning to identify plants, measure stream depth and figure the mass of the logs that were placed in the creek to create fish habitat.
"Don't forget the densiometer," instructs Candrah Iademarco of Philomath, and far below her, wading through the water, Quin Harden of Independence pulls out a gadget that measures the amount of sunlight that reaches the creek through any trees and branches.
Would they rather be in a warm classroom, calculating circumferences on dry paper and learning about hydrology from pictures? Students are split on the question, the underdressed leaning toward the warm classroom.
Hannah Marble, however, despite coughing and shivering with pending illness, refused to yield her job as a statistician until her teacher commanded her to go home. Before she leaves, she answers teacher Dean Sprague's question: "What is this tree with the helicopters on it?"
Marble looks up at the leafless branches, pauses for a few seconds, and says, through chattering teeth: "Maple."
"Acer macrophyllum," adds Michael Cairns of the Luckiamute Watershed Council, citing the native tree's scientific name.
The council coordinated the project to place about 40 logs in Plunkett Creek, in cooperation with the landowner, Michael Moore, whose family has lived on and farmed the land for several generations. Weyerhaeuser donated huge Douglas fir logs from another part of the watershed, and a private landowner in North Albany donated smaller pine logs from land she was clearing. This summer, the logs were placed in the creek the students were surveying in November. Another 15 were placed in nearby Vincent Creek -- all to help create a healthier stream channel.
Logs help form pools and retain gravel, attracting winter steelhead to the creek that previously was swift and dangerous. If fish have a place to rest in the slower waters created by the logs, they are more likely to survive, Cairns said.
Sprague said the school's biology class goes on field trips about four times a year. Earlier this year, they studied mountain ecology at Mount St. Helens. Later in the school year, they'll go to Eastern Oregon to dig fossils and study desert ecosystems, and they'll travel to Cape Perpetua to study marine life.
"It's great to have the latitude to do things like this," Sprague said.
Landowners interested in similar improvement projects on their lands in the Luckiamute River or Ash Creek watersheds can call Cairns, 503-838-4275, for information.