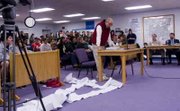 MONMOUTH -- The City Council won't raise the price of utility deposits in Monmouth as a way to combat delinquent electric bills.
Instead, officials will wait to see during the next six months if a series of recently established billing changes alleviates the problem.
That was the direction taken following a work session last week in which the public was invited to comment on an issue that's seen months of study by city staff, lobbying by landlords, and more recently, anger by renters.
Meanwhile, the practice of placing liens on properties if owners don't pay the bills their tenants skip out on -- which originally sparked the discussion -- doesn't appear it will be changed.
More than 100 residents -- most of them Western Oregon University students; the rest, local landlords -- crammed into Volunteer Hall on Dec. 2 to voice concerns during a sometimes-heated 90-minute debate.
The city has altered in the past couple of months some of its utility billing methods, such as requiring that staff members sign off on a customer's prior account history and expediting the mailing of final bills if a customer's power service has been terminated.
Officials are also looking at using a second collection agency to pursue unpaid bills.
The council began considering in September increasing refundable deposits for electric service from $115 to $160, believing it could create more pressure to pay bills.
At the start of the comment period last week, members of the Monmouth-Independence Tenants Union (MITU) presented Mayor John Oberst with 400 signatures from residents opposed to a deposit hike.
"Citizens of Monmouth can't afford this," said Amanda Korbe, a MITU member.
Korbe added that only 1 percent of tenants don't pay their bills, and that the deposit hike was "discriminatory" because it only applied to applicants who rent.
"This is going to hurt poor families and students who can't afford to move into" an apartment, Korbe said.
The city currently has $26,000 worth of liens based on 84 unpaid utility accounts. Seventy-two of them are related to tenant bills, though a greater dollar figure is attached to owner-occupied accounts, City Manager Scott McClure said.
About a half dozen tenants opined that larger fees make apartment living a costly prospect in Monmouth, with some noting up-front costs as great as $2,000 between utility, rent and security deposits.
"I don't think $45 more would be a dramatic burden on anyone here," Linda Taylor, a property owner in Monmouth, argued. "We have students who move out without paying (utility bills) because they know they don't have to ... as they're leaving they have cell phones, internet and other luxuries, yet can't pay (utility) bills."
Other landlords supported the increase, and continued to express outrage for the city's lien provision.
"It needs to go," said Bill Foster of Kampfer Enterprises. "And until the tenants who created this problem are held accountable, the problem will never be solved."
Councilor Chris Larsen said he felt the best method to improving collections was to continue reducing the time it takes for final bills to be issued once accounts are closed.
"Ultimately," he added, "I would like to see us do away with liens."
Councilor Steve Milligan reiterated a past argument that liens were a cost of doing business for landlords.
"This isn't a Monmouth Power & Light problem," he said. "In my perspective, we didn't solicit irresponsible tenants."
Four councilors called for a six-month trial period to see if changes to billing practices would reduce the issuance of liens before putting the deposits up for a vote.
Only Councilors Ben Meyer and Barbara Baxter favored increasing the deposits right away.
Meyer said the deposits haven't been changed for 15 years and warned that losses from delinquent bills may have to be recouped someday through higher electric rates.
"The deposits aren't meant to be punitive," Meyer said, addressing tenants in the crowd. "You're going to get them back."
Most landlords left the meeting unsatisfied.
"I think they spent a lot of time doing nothing," Taylor said. "As usual, there was zero progress ... and they skirted around the whole issue of the liens."