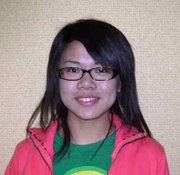 DALLAS -- The Dallas Rotary Club recently welcomed Peng "Amy" Yi-Hsin as its 2008-09 exchange student from Taiwan.
Amy, who is attending Dallas High School as a senior, speaks English, Chinese, Taiwanese and Hakka. She hopes to improve her English while here.
Amy chose to come to the United States because of its culture, food, and language. She said her Taiwanese friends tell she will get fat eating American food, but she said "I don't care, it's part of the experience."
She enjoyed football games in the fall and is hoping to be involved in many school and community activities. Amy says she is really enjoying the experience.
Her host family is Kelly and Heidi Chapman. She especially enjoys cooking with Heidi and going shopping.
Rotary Youth Exchange is part of Rotary's primary goal of world peace. The idea being, by developing understanding and friendship with people of other cultures and countries it is much easier to live in peace with them.