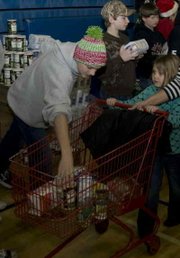 City working on
tree debris pickup
City of Dallas public works crews have started picking up tree debris.
Citizens are asked to set out limbs from trees damaged in the recent storms in a pile on the curb, according to a release from the city. Piles should not be in traffic lanes or blocking street storm drains and should not include grass, leaves or other debris not related to the storm.
Work started Tuesday in zone 1 and work will continue through zone 10. To determine which zone a home is in and to access the pickup schedule, visit the city's web site at www.ci.dallas.or.us.
Residents interested in chips from the debris may call 503-831-3562.
The city also reminds residents that Dallas City Park will remain closed to vehicles and pedestrians until further notice due to the danger caused by the severe damage of trees and broken limbs.
For more information: 503-831-3562.
Falls City hosting
game, craft event
Families in Falls City have the opportunity to start the year off right with a game and craft event.
The Falls City Arts Council is holding the event from noon to 4 p.m. today (Dec. 31) at the Falls City Community Center, 320 N. Main St. The games and crafts for all ages are free of charge.
For more information: City Hall, 503-787-3631.
Tree recycling
offered in Dallas
Sable House and Dallas FFA volunteers will team up for their annual Christmas tree recycling event Saturday, Jan. 3.
Trees may be dropped off or picked up by arrangement from 9 a.m. to 2 p.m. at Allied Waste, 1030 W. Ellendale Ave. in Dallas.
Suggested donation is $5 per tree. Proceeds benefit Sable House.
To arrange tree pickup or for more information: 503-623-6703.
Fundriaser planned
for LaCreole trip
Figaro's Pizza of Dallas is hosting a fundraiser on Monday, Jan. 5, to benefit the LaCreole Middle School eighth-grade trip to Washington, D.C., and New York City.
Figaro's will donate 15 percent of its total daily sales on Jan. 5 to help fund the annual class trip.
For more information: LaCreole Middle School, 503-623-6662; Figaro's. 503-623-8889.
Get blood pressure
checked at clinic
A blood pressure check clinic open to the community will be held Friday, Jan. 2, at the Greenway Manufactured Home Community, 450 SE LaCreole Drive, Dallas.
The clinic, which is free, begins at 9 a.m. and takes place in the park's clubhouse.
For more information: Donna or Steve Callis, 503-623-8241.
Tree recycling set
for this weekend
Christmas trees will be accepted for recycling Saturday, Jan. 3, and Sunday, Jan. 4, from 10 a.m. to 4 p.m. at 401 Hogan Road S. in Monmouth, adjacent to MINET offices.
Trees can be dropped off for a voluntary monetary donation at the site, or trees can be picked up in the Monmouth-Independence area for a suggested donation of $5 per tree.
Co-sponsors of the event are Central Lions Club of Monmouth-Independence and Monmouth Public Works Department. All money donated benefits Central Lions Sight and Hearing projects.
For more information or to have a tree picked up: 503-551-7168 or 503-510-9149.
Church will recycle
trees on Saturdays
Heart to Heart Church will offer Christmas tree recycling from 10 a.m. to 4 p.m. on Saturday, Jan. 3, and Saturday, Jan. 10, at 191 Monmouth Ave. N. in Monmouth.
Donations benefit the church's Sunday school camp fund. Suggested donations per tree is $4 for those dropped off and $5 for those picked up.
For more information: 503-838-4742; 503-930-5602; or 503-837-0541.
Life story writing
workshop continues
Betty Plude will continue offering a free life story writing workshop on Monday, Jan. 5, from 1 to 3 p.m.
The workshop, held at the Independence Public Library, 175 Monmouth St., is designed to provide encouragement and ideas to help authors write their stories and turn them into family treasures.
For more information: Betty, 503-838-4039; Independence Public Library, 503-838-1811.
Livestock group
sets annual meeting
The Polk County Livestock Association will hold its annual dinner and business meeting Saturday, Jan. 10, from 6:30 to 9 p.m. at the Hong Kong Restaurant, 325 Main St., Dallas.
Guest speaker is Dr. Kelvin Koong of the Oregon State University Animal Science Department.
The business meeting will include the presentation of the PCLA Livestock Family of the Year, approval of the 2009 Polk County Fair market class rules, and an update of the PCLA bylaws.
Anyone interested in livestock operations and county fair livestock activities is welcome to attend. RSVP is needed by Monday, Jan. 5. For more information: Pat Letsch, 503-623-4956 or 503-507-9017.
New youth craft
session to begin
Heritage Crafts, a Dallas ICAN after-school program, begins its next four-week session on Tuesday, Jan. 6. The class meets from 3 to 5 p.m. at the Dallas Senior Center.
The program is open to those ages 7 and older, and brings together youths, parents and seniors to create handcrafted items.
Cost is $35, which includes materials and snacks. Registration is required.
For more information: 503-623-5055; e-mail to michelec@dallasican.org.
Dance performance
rescheduled Jan. 6
Polk County France School of Dance's semiannual dance performance and food drive has been rescheduled for Tuesday, Jan. 6, at 6 p.m. at Talmadge Middle School, 510 16th St., Independence.
Students ages 4 through the teens from Polk County and surrounding communities will perform tap, ballet, jazz, hip-hop and funk.
Admission is two canned food items per person. Proceeds benefit the Lions Club of Monmouth-Independence and Dallas Food Bank.
For more information: Linda France Martin, 503-390-3481; or visit www.fsodance.com.
Master Gardener
training available
The OSU Polk County Extension Service will offer Master Gardener training on Wednesdays beginning Jan. 7 at the Polk County Fairgrounds, 520 Pacific Highway (99W) in Rickreall.
The training takes place from 9 a.m. to 4 p.m. and continues through Wednesday, March 18.
Cost is $75, which includes handbook and materials. There is an additional requirement of 60 hours of volunteer time after the class is completed. A non-volunteer option is available for $250.
For more information: Gail Miles, 503-623-8395; e-mail to gail.miles@oregonstate.edu.
Signups accepted
for karate classes
Dallas Intercommunity Activity Network is accepting registration for the next session of "Karate for Everyone."
The four-week class begins Thursday, Jan. 8, at the Morrison Gym in Dallas. The class meets from 6:30 to 7:30 p.m. and is divided by age and ability. Beginners are welcome. Cost is $30 per person or $40 per family.
To register or for more information: Michele Campione, 503-623-5055; e-mail to michelec@dallasican.org.