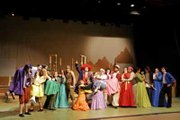 DALLAS - Standing in the eye of a fabric tornado, Dallas High School Theater Director Blair Cromwell surveys costumes with a critical eye.
"This one needs to be taken in and hemmed about two inches," she says, pointing to the Kelly-green skirt worn by one of the ingenues in her upcoming production of Gilbert and Sullivan's "The Pirates of Penzance."
"This play is performed by everyone, everywhere, involved in theater in some way, shape or form," Cromwell said.
"It's a musical that not only pokes fun at the convention of musical theater, it also pokes fun at itself."
The 129-year-old musical will be the first after-school musical performed by Dallas High School in six years.
"Musicals were cut during the budget problems and hadn't made their way back," Cromwell said. "We're doing Gilbert and Sullivan because it's public domain and we don't have to pay royalties."
During those six years, Cromwell's students participated in musicals with a children's theater program offered through Willamette University. It was a partnership that allowed musical theater to stay in Dallas without the expense.
This musical will be the first one produced solely by the DHS theater department in six years.
The students have been working on it since December and the play is set to open on Wednesday, Feb. 27, at 7 p.m. at the Dallas High auditorium.
"We are a little concerned about tickets because we are only running one weekend," Cromwell said. "Dallas audiences tend to hear about the play the first week and come out in big numbers the second week. But for this, there isn't a second week."
Cromwell is encouraging the public to buy tickets ahead of time, as musicals tend to sell out fast.
The original costumes for 32 cast members and an elaborate set took months to finish. The work was done by community volunteers and students.
"The amazing efforts of parents, students and community members must not go unnoticed," Cromwell said. "The ironic thing about theater is that it is imperative the audience not see how much work has gone into it; they are just to sit back and enjoy.
"It is our job to give them the best show possible while challenging the students at the same time."
According to Cromwell, the challenge of any Gilbert and Sullivan play is letting the audience in on all of the jokes and taking the material completely seriously - while still having fun.
"When the actors make fun of the material, such as laughing at the jokes, it doesn't allow the audience an opportunity to do it. Performers have had to learn about having fun versus making fun of the material," Cromwell said.
"Those without a lot of `opera' experience might mistakenly think that this whole thing should be taken as a serious opera. These are pirates who have a habit of not being very successful at piracy. These are dainty maidens who aren't always so dainty.
"These are ingenues who are laughably smarmy when it comes to their love and sense of duty," Cromwell said.