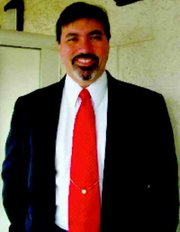 MONMOUTH/INDEPENDENCE - Central School Board has selected a concept for the Central High reconstruction project that could cost between $40 million and $50 million.
District officials are now preparing more accurate design and cost details to begin polling community members next month regarding support for a construction bond.
An exploratory committee comprised of administrators, staff and local residents examined different scenarios to replace or rebuild the high school, which has a number of layout deficiencies and is ill-equipped to handle continued enrollment growth.
The group whittled down a list of 17 concepts to two, one of which involved tearing down the entire high school and building anew on the same site.
Last week, the school board voted 5-1 for a proposal that leaves much of the existing building intact, but guts and reconfigures interior space and adds classroom space to the north.
"This is more than just a patch job of painting and remodeling," said Superintendent Joseph Hunter. "We're talking about a whole modernization of the space."
Engineering and architectural work will be completed, and a final price tag available, by May.
After the public polling, the board would then vote on whether to place a bond on the November ballot.
A bond for the reconstruction concept may not alter the district's current property tax levy - $3.42 per $1,000 of assessed value, Hunter said.
An existing bond to pay for Ash Creek Intermediate School was restructured in 2005 and is set to expire in 2010, when a green-lit high school bond would take effect.
An analysis by Seattle Northwest Securities showed that a bond of about $40 million would not increase the existing tax rate.
When the Ash Creek bond expires, "it will lower the rate from $3.42 to $1.22 per $1,000," said Mike Maloney, district bond manager.
"A $40 million bond would increase that issue by $2.20," he continued. "So it would remain at $3.22."
Architects have created a rough design of the proposed option. While its appearance may change in the coming months, it will contain all of the elements sought after by the exploratory committee.
This includes capacity for 1,200 students, a new football stadium, a 600-seat auditorium, centralized administrative offices, and two clear entrances on the west and east sides of the school.
Vehicle entrances would be off of 16th Street and Gun Club Road. Hunter said it's likely that the Oregon Department of Transportation will require the closure of ingresses off Monmouth Street.
The bond may end up exceeding $40 million. Hunter said while the high school is the biggest priority, "it's not the only one."
The district's elementary schools all face space facility needs and by 2012 a new building will be needed.
Hunter urged board members to consider that in selecting the reconstruction concept over erecting a new high school, which, according to a 2005 estimate, could have cost as much as $70 million.
"We don't want to spend so much on the high school that we don't have enough bonding capacity for another elementary school in the future," the superintendent said.
Maloney said there are infrastructure improvements needed for the elementary schools that roughly total $9 million. Officials are considering increasing a potential bond by that amount to:
Build a new health and fitness building for Monmouth Elementary School.
Build six new classrooms for Independence Elementary School
Acquire and convert the Oregon Childhood Development Coalition building that sits adjacent to Henry Hill Elementary School into usable space for the school.