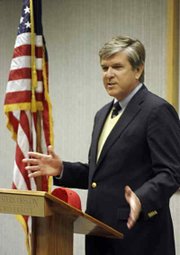 DALLAS - Polk County Relay for Life planning committee chairman Rick Bennett was diagnosed with leukemia in 2002. He has been in remission for five years.
"Five to seven years of remission seems to be the cutoff or the goal you are looking for, so I guess technically I'm cured," Bennett said.
Before his diagnosis, cancer floated under his radar. He'd seen advertisements for Relay for Life or Race for the Cure, but never paid attention to what they meant. He said he never considered the importance such events had on the lives of survivors and families.
"I got involved (with Relay) because I saw an article in the paper looking for teams for the relay. Before that I didn't even know what the relay was," Bennett said. "I had probably seen dozens of articles about it before my diagnosis, but it had never really meant anything so it didn't stick. But that year I was a survivor; cancer had hit us pretty hard and we wanted to do something about it."
He and his family formed their first team in 2002. It had 12 people, made up mostly of Bennett's family and friends. They called themselves the Bloomin' B's because almost everyone on the team had a last name that started with "B."
For two years the Bloomin' B's gathered pledges and walked all night to help in the research that Bennett knows saved his life.
After two years his team had gotten so big that it split off into two new teams. His parents recruited their square dancing friends from the Wagon Wheelers and formed the Square Dancers for Life, while Bennett and his wife and kids joined with the owners of the Sunflower Barn and formed the Barn Walkers.
During this time, Bennett became increasingly involved with the year-round planning that is required to put on the Polk County Relay for Life.
This is his fifth, and he hopes final, year as the organization's chairman. He plans to continue to work with his team, but he said it's time for someone else to take over the leadership role.
"The biggest challenge facing us is just getting the word out. There are a surprising number of people who don't know what the Relay for Life is .... Well, I guess it's not all that surprising. I didn't know what it was before I was diagnosed," Bennett said.
In an attempt to educate the public, the planning committee is reinstating the Relay for Life Kickoff Rally.
On Wednesday, Jan. 30, from 7 to 8:30 p.m., volunteers will gather at the Polk County Fairgrounds in Rickreall and hold a "mini Relay." There will be an opening ceremony, luminarias will be lit and there will be a survivors' recognition ceremony.
"The kickoff is meant to give people who have never been to a relay the opportunity to see what it's all about," Bennett said.
It's a requirement tool, but also a morale boost. Polk County has one of the first relays in the state. As a result, its planning starts in August and September and runs through May 16-17, when the event takes place.
That means there is about a two-month break around Thanksgiving and Christmas when no planning is done. Ben nett said it's sometimes hard to get the momentum back after the holiday break, but he thinks the rally kickoff will solve that.
Bennett said it's important to keep coming up with ways to reintroduce the public to Relay for Life. It's important because the relay is so important to survivors, families of survivors, and the thousands of people everyday who are faced with those three terrifying words: You have cancer.
"(The relay) is important to me because had it not been for the efforts for the folks who came before me, I may not have had a chance to participate ... it's difficult to say that a particular relay, and a particular dollar amount raised, saved me, but the research that money paid for did. I owe them my life," Bennett said.
"It unites communities. People look forward to it. There's some friendly competition between the teams, but mostly it's an opportunity the share in an experience. When you go to a relay you look around and you know that everyone there gets it. They know what it's all about because they've been there," Bennett said.
For more information on Relay For Life teams or the kickoff rally: Rick Bennett, 503-910-6233.