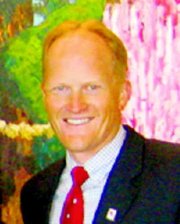 MONMOUTH - The editor-in-chief of Western Oregon University's campus newspaper is accusing administrators of meddling with the student press.
Gerry Blakney, who heads the Western Oregon Journal, sent a Jan. 12 e-mail describing the situation to a number of different media outlets in Oregon, including the Itemizer-Observer.
"I'm writing to you out of desperation," Blakney said.
The ordeal centers on "secret" changes being made to the bylaws of the Student Media Board, which oversees Western's newspaper, television station and literary magazine, "Northwest Passages."
The board, comprised of students, staff and faculty, develops policies to guide the campus media, is involved in the budget process, and is responsible for hiring and firing of student media employees.
Blakney said Gary Dukes, the college's Vice President of Student Affairs, and the student media interim advisor, Curtis Yehnert, have been altering the board's bylaws without the knowledge of the board.
"The media board must adhere to Oregon Public Meetings Law and a two-thirds quorum," Blakney wrote in his letter. Officials have "made changes without consulting anyone but the university president."
Dukes said he and Yehnert started looking into bylaw revisions in the fall, some involving the makeup of the board - four students are on the body and they are selected by the media heads.
"To me, that seems like a conflict of interest," Dukes said.
Dukes also said there currently is no board, and that past bodies haven't followed their own bylaws by meeting only once annually during the past five years instead of the required three times.
Dukes said altering the provisions isn't a violation because the university president constituted the guidelines in 2001 "and the board reports to me what is in the bylaws."
In light of Blakney's letter, Western President John Minahan has formed a panel to investigate whether proper procedures were followed and other claims.
The three-person body includes two faculty and Dick Hughes, editorial page editor of the Statesman Journal newspaper. Their findings are due in March.
This is the third issue regarding conflict between the Western Oregon Journal and administrators in the past several months.
Last summer, the newspaper found unsecured personal information on the college's computer network. After reporting the breach, an employee of the Journal was reprimanded after the incident and a then-media advisor was dismissed.
In November, Associate Provost Dave McDonald wrote an apology published in the Journal regarding an October incident in which he effectively hid copies of the paper by making them less visible in display areas because of the content of some stories.