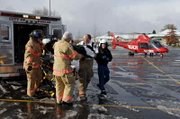 DALLAS -- A late Tuesday morning fire in Dallas sent one occupant to a Portland hospital via REACH Air Medical Services for treatment of smoke inhalation.
Dallas Fire Department responded to a report of a house fire in the 300 block of Northeast Kings Valley Highway around 10 a.m. Tuesday. Initial reports were of smoke and flames coming from the home, as well as occupants having difficulty evacuating the dwelling.
Upon arrival, the fire department found the four occupants had escaped, but one individual had been exposed extensively to smoke inhalation. That person was treated on the scene by Dallas Ambulance Service and later transported by REACH Air Medical Services to Emanuel Hospital in Portland for further treatment. The condition of that patient is unavailable at this time.
The fire was contained to the room of origin. Cause of the fire is under investigation.
Estimated value of damage to the dwelling and its contents is $20,000 to $25,000. Red Cross was called in to help with the displacement of a family of four.
Two engines, one rescue, one medic unit, one duty officer and 13 firefighters worked the incident, conducting patient treatment, fire attack, ventilation and overhaul.