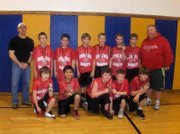 ♦
A baseball rules clinic will begin at 7 p.m. Feb. 18 in the Dallas Kids, Inc. office, 187 SW Court St
. All managers, coaches and umpires must attend this meeting.
♦
The Salem Baseball Umpires Association is seeking individuals interested in umpiring high school baseball in the 2008 season
. All training is provided. Prior exerience is not required. Registration will be held at 10 a.m. at West Salem High School on Feb. 2 and Feb. 16. For more information: 503-932-8030 or mmartino@salemumpires.org.
♦
Central's boys basketball games (junior varsity and varsity) are being broadcast over the internet
. The website address is www.MidValleySports.org.
♦
The Dallas Kids, Inc. Cal Ripken Baseball Camp will be held March 8
. Majors (ages 11-12) will meet from 8:30 a.m.-10:30 a.m. Rookies (ages 7-8) will meet from 11 a.m.-1 p.m. Minors (ages 9-10) will meet from 1:30 p.m.-3:30 p.m. Each session is limited to 24 players. The registration fee is $25.
♦
Registration for Dallas Kids, Inc. baseball and softball is underway
. Registration is at the Kids, Inc. office during regular business hours (Mondays and Wednesdays from 2 p.m.6 p.m., Fridays from 2 p.m.-6 p.m.). Registration also will be held at the office Feb. 2 from 2 p.m.-4 p.m., Feb. 13 from 6:30 p.m.-8 p.m. and March 1 from 10 a.m.-noon. There are leagues for ages 5-14. Fees range from $55-$125 in baseball and $50-$75 in softball.
♦
Linfield's softball program is conducting an instructional fastpitch clinic for girls ages 8-18 on Feb. 9
. The cost for the clinic is $40. The clinic will run from 10 a.m.-3 p.m. with a one-hour break for lunch (not included with registration). The fundamentals of hitting, bunting, baserunning, defense, pitching and catching will be covered. Coaches and players of the reigning NCAA Division III national champion Wildcats will instruct. For more information: Linfield coach Jackson Vaughan at 503-883-2413.
♦
KPIE Radio, 94.3 FM, is airing Dallas Sports Talk on Mondays at 6 p.m
. The host is Tod Brostrom.
♦
Central Youth Sports office hours are Wednesdays from 6 p.m.-8 p.m
. The CYS office is located at 169 S. Broad St. in Monmouth. The CYS phone number is 503-838-4013. The CYS website is www.centralyouthsports.com.
♦
Dallas
Kids, Inc.
is located at 187 SW Court St
. The Kids Inc. phone number is 503-623-6419. The e-mail address is dallaskidsinc.org.
♦
For additions to the Sports Briefs section: Sam Scott at 503-623-2373 or by e-mail at sscott@eaglenewspapers.com
.