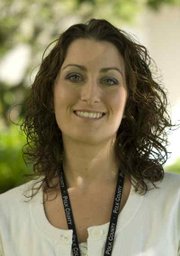 POLK COUNTY -- Many of the annual summertime community events in and around Polk County have declared to be smoke-free this year.
Summerfest, Sounds of Summer and Senior Day at the Polk County Fair will all prohibit smoking this year to ensure clean air for attendees and participants alike.
Randi Harris, Polk County's Community Tobacco Prevention Coordinator, helped organize and implement the smoke-free policy, part of a statewide initiative.
With collaboration from Chelsea Pope, the Dallas Area Chamber of Commerce Executive Director, John Swanson, the Commercial Area Redevelopment Manager for the city of Dallas, and Tina Anderson, the Polk County Fairgrounds Manager, these popular community events will be held as usual -- only this year, without tobacco.
"Just to eliminate secondhand smoke ... it was in the best interest of spectators and participants to not allow the use of tobacco at these events," said Harris.
The National Night Out event planned in Independence at the Riverview Park Amphitheater on Aug. 5 also is going smoke-free.
Attendees to these events who do smoke will be asked by security personnel to refrain from doing so.
Harris said smoking kills more people in the United States than AIDS, car crashes, alcohol, drug use, homicides, suicides and fires combined. It is the single most preventable cause of death in our society and affects more people than just those who puff on the end of a lit cigarette.
During 2007 in Polk County, 108 people died from tobacco use and 2,111 suffered serious illness caused by tobacco use, according to Oregon's Department of Human Services. More than $17.7 million was spent on medical care for tobacco-related illnesses and more than $17.8 million in productivity was lost due to tobacco-related deaths in Polk County.
Eighty-nine percent of all Polk County adults -- smokers and nonsmokers alike -- say that people should be protected from secondhand smoke. This is the main reason behind having popular community events be smoke-free, noted Harris.
Studies have shown that children and especially infants who are routinely exposed to secondhand smoke have more lung illnesses such as bronchitis and pneumonia and can develop asthma.
The American Lung Association says that as few as 30 minutes of secondhand smoke exposure can impair coronary circulation in a nonsmoker, can increase the risk of heart disease among nonsmokers by as much as 60 percent, and nonsmokers who are exposed to secondhand smoke are 20 to 30 percent more likely to develop lung cancer.
For more information: Randi Harris, 503-623-8175, Ext. 2302;
harris.randi@co.polk.or.us.