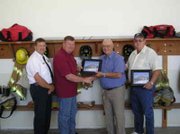 BUENA VISTA -- A dedication ceremony was held last weekend for Polk County Fire District No. 1's substation in Buena Vista.
Firefighters have been operating out of Station 40 since its completion in January, but bad weather and landscaping delays pushed back a proper christening until recently, said Fire Chief Jason Cane.
The 3,000-square-foot building has two bays for engines and apparatus, a small training room, kitchen and bathroom. It's run by three volunteers, "but can handle up to 12," Cane said.
The substation -- one of three rural Polk No. 1 facilities -- replaces an out-of-date structure that "had outlived its usefulness," Cane said.
The new building was funded through an obligation bond passed by voters in 2002, and is erected on land donated by the Buena Vista Community Church.
The project took three years and $243,000 to complete, mostly because of a dispute between the district and the original building contractor in 2006.
Construction halted when the district refused to pay the contractor after discovering that he wasn't properly bonded.
The district won a lawsuit. But because no construction was allowed on site during the legal proceedings, the early-stage structure deteriorated because of the elements and had to be almost completely rebuilt, Cane said.
Polk County Fire District is in need of more volunteers to staff Station 40. Those interested are encouraged to contact Fire Chief Jason Cane or Training and Operations Chief Neal Olson at 503-838-1510.