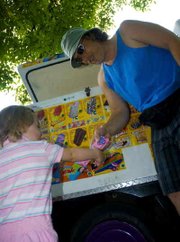 DALLAS -- The tinkly song plays over and over again, ringing in his ears. Kids are shouting orders and pointing, and he just can't hustle quickly enough. He is sweating from sitting on the car's motor for eight hours in the 90-degree heat and his heart beats faster and faster.
Suddenly, David Loyd wakes up from his nightmare. He says he has had a couple of bad dreams about his job, even though it is one of the best professions in the world.
Loyd is Dallas' ice cream man.
Eight-year-old Landon Cook sucks on his bright pink Froze Toes ice cream bar with a smile and explains why he would like to be an ice cream man.
"You get to give ice cream out and make children smile," Cook says.
Cook, his mom and little brother from Independence were driving around killing time before going to the dentist when they spotted Loyd driving by Dallas City Park. They followed him until he stopped to take their order.
Most encounters with the ice cream man are more traditional. He slowly drives through neighborhoods at about 5 miles per hour playing the song that makes kids run from their homes waving dollar bills.
The art of selling ice cream is much like that of fishing. He uses the song as bait and patiently waits for a bite.
Last week, Loyd didn't have to be that patient as five kids and two adults gathered on Levens Street for a chilly treat in the hot summer sun.
Melinda Cutler says she remembers hearing the song one night when she was grounded inside her home and sneaking out the window for ice cream.
"It makes a memory when (kids) come to the (truck) and get an ice cream delivery," Cutler said.
Each of Cutler's four kids, ages 6 to 13, told Loyd what they wanted -- a mix of Oreo, chocolate chip cookie, strawberry shortcake and Spiderman ice cream.
"They all said 'please' without being told!" Cutler says with a surprised laugh.
Loyd says often it is the parents who get more excited to see him than the kids because the tradition brings back so many good feelings.
He begins his day around noon and drives from one side of town to the other, averaging 20 to 30 miles each day. His one-seater, purple and white wonder carries about 24 varieties of ice cream priced from $1.50 to $2. He says the best sellers are the Spongebob shaped ice cream bars, chocolate eclairs and chocolate chip cookie ice cream. He usually goes home around 7:30 or 8 p.m.
Loyd says he didn't always dream of being in the ice cream business. He worked as a short-order cook in a bar before driving a truck in Portland one summer about 15 years ago. He moved to Dallas more than a year ago and bought the truck from a friend, he says.
While driving in the truck, he says kids and adults always wave at him and teens usually holler to say hello. With his hat on that he wears to keep the sun off his face, he says he is often recognized even running errands around town.
The worst part of the job is the heat and denying kids ice cream when they don't have any money, he says. But he enjoys meeting people and has taken many photos with kids during their first visit from the ice cream man.
Jade McMichael, 10, a regular customer, says the ice cream truck is cool because it is well organized, has a different shape and purple-painted rims. To sell ice cream, he says one would have to be able to drive slow enough so people can catch up to the truck, be able to count change quickly and be joyful.
"You have to be as sweet as the ice cream to sell it," McMichael says.