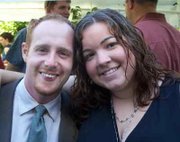 Arndt-Dickey
Kara Marie Arndt of Keizer and Steven Laurice Dickey of Keizer are planning an August wedding.
The bride-to-be is the daughter of Gary and Sue Arndt of Woodburn. Her fiance is the son of Raymond and Sonya Dickey of Dallas.
Kara, a 2000 graduate of Woodburn High School and 2005 graduate of Western Oregon University, is a first-grade teacher at Stayton Elementary School.
Steven, a 1999 graduate of Dallas High School, is a Willamette Valley-area service representative for the informational systems company CSA of Portland.
The wedding is set for Saturday, Aug. 16, at the home of Gary and Sue Arndt.
More like this story