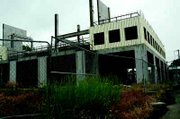 INDEPENDENCE -- Finally.
Construction is expected to resume on the oft-delayed Independence Station this summer.
A dilemma involving the loss of a financial backer earlier this year for the 57,000-square-feet "green" complex has recently been resolved, said Steven Ribeiro, owner and principal developer.
Johnson Controls Inc., the project's management and general contracting firm, has recently secured replacement lenders Mass Mutual in New York and First Security Bank in Little Rock, Ark., Ribeiro said.
Structural inspections and cleaning on the site located at the corner of Monmouth and 2nd streets will be scheduled in the coming weeks. Actual work would "most definitely" begin within the next two months and proceed until the $15 million, mixed-use building is finished, Ribeiro said.
"I am very excited to announce that we can expect completion of this international landmark building by next summer," he said.
Ribeiro said he also wants to schedule "Independence Station: 101" meetings and tours of the site to clear up any lingering questions about the complex.
Ribeiro is pushing for a high ranking with the U.S. Green Building Council's Leadership in Energy and Environmental Design (LEED) program.
The organization awards points -- up to 69 -- for implementing efficient energy technologies and sustainable materials, and other conservation practices.
Independence Station is currently at 64 points and on its way to 66, which would make it the "greenest" structure in the world, Ribeiro said.
The project was met with great interest when it was announced in 2004, but has been chronically delayed because of lending problems stemming from design tweaks or updates of sophisticated temperature and electrical control systems. One financial backer failed earlier this year.
Ribeiro said he has approached and been turned down by more than 60 lending institutions in Oregon before Johnson Controls was able to facilitate a loan.
"The credit crisis has been the biggest issue," he said. "Banks have tightened up with such losses to people buying homes without adequate credit ... it's required them to be fearful and they shut everybody off and commercial money has dried up."
Another Ribeiro project, the 68-acre, mixed-use community Water's Edge in Kuna, Idaho, near Boise, also has been stalled because of a combination of city infrastructure and lending problems during the past four years.
Ribeiro said he was recently given a one-year extension to break ground on that development.
Independence Station has been showcased in several business and building publications for its proposed innovations during the past couple of years.
For example, the commercial and residential building will use photovoltaic cells on all its condominium roofs and on a canopy that will stretch from the facility over the parking lot.
The cells will automatically tilt from east to west to track movement of the sun. Captured energy will be stored in on-site battery banks to power the structure.
Locally, its notoriety has stemmed from its unfinished state.
"I understand because this is a building that's so different than a standard building," Ribeiro said. "If it was a video store, I could tell you when it was going to be finished.
"Some in town have been saying this couldn't be done, some have said this shouldn't be done, and one prominent local said I should lower my goal," Ribeiro said. "I say naysayers never make history."
Ribeiro has posted for lease advertising on the construction site in recent months. He said he hopes to include an Internet cafe, ice cream parlor and other businesses on the ground floor.
"There will be several stores there that will lease space for less than $1,000 per month," he said.
City Councilor James Kirkendall has voiced concern over the lack of visible progress on the building during the past few years.
"We've been frustrated, disappointed and had to field a lot of questions and we haven't had answers," he said.
He noted, however, that the council met with representatives from Johnson Controls on May 27 who guaranteed a completion date.
"This looks like the final solution and it looks good," Kirkendall said. "At this point, I'm excited about it.
"I can't say I could have said that a few months ago, but I can now."
For more information on the project: www.independencestation.com.