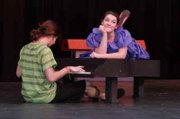 MONMOUTH/INDEPENDENCE - The characters that inhabit Charles Schulz's "Peanuts" comic strip will be brought to life on stage at Central High School.
Students of the school's theater program will perform "You're a Good Man, Charlie Brown," which opens Thursday evening.
The play is scheduled March 6-7-8 and March 13-14-15. There are two shows on March 8 at 2 and 7:30 p.m. All other performances start at 7:30 p.m.
The musical, which premiered off-Broadway in 1967 and was revised in 1999, consists of several vignettes centered around popular scenes from the comics and cartoons, such as Lucy's "psychiatric help" booth.
Jeff Witt, director and school choir instructor at Central High, said he chose "Charlie Brown" as this year's production primarily because of the size of the required cast.
The show has six leads and a 12-member chorus, making the cast "half the size of any other musical we've done here," Witt said. "The music is fun - Charlie Brown is universal."
Central Principal Sylvia Warren will make a cameo, or at least her voice will, as Charlie Brown's perpetually unseen and incomprehensible teacher.
"She did a role for me in `Grease,'" Witt said. "Kids love seeing their teachers and administrators performing."
Phillip Morton, 18, of Independence is a four-year veteran of Central's spring musicals and will portray this production's namesake.
"I'm liking this show a lot," he said. "We have a small cast and it's much more personable than normal ... and a lot easier to fix problems."
Morton said perfecting Charlie Brown's trademark "Augh!" and "acting depressed as opposed to being depressed" were some of his biggest challenges.
He also shaved his usually bushy hair down to half an inch to get the look right. "Mr. Witt and I decided that completely bald is not the best look for me," Morton said, laughing.
Performances of "You're a Good Man, Charlie Brown" will take place in the Central High auditorium starting Thursday. Tickets are $8 for adults and $5 for students.
For more information: Stephanie in the activities office at 503-606-2228.