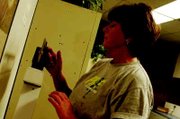 MONMOUTH - Wayne Hilderbrand says he and his wife, Marilynn, had a busy routine while managing auto parts stores along the Southern Oregon Coast up until their retirements a few years ago.
Days spent restocking shelves, driving deliveries and waiting on customers left little time for anything - like proper fitness and nutrition habits.
"We were always on the go, but didn't exercise," Wayne Hilderbrand, 56, said. "When doing that type of business, you're putting in 13-, 14-hour days ... easy.
"You don't eat properly," he continued. "It was French fries and hamburgers two or three times a week."
At his heaviest, Hilderbrand weighed 236 pounds. He vowed to do something about it when the couple moved to Monmouth in 2006 and started working out. Still, motivation has always been his biggest obstacle to regular exercise, he said.
In January he and Marilynn decided to up the ante by participating in an annual promotion at the Monmouth Fitness Club.
They and 148 others took part in third edition of "I Lost it at the Club!" - a friendly competition between male and female members to collectively shed the most weight and body fat in eight weeks.
The program began in January and ended earlier this month. Hilderbrand lost 16 pounds in that period, more than he had in the year and a half prior, and is now close to 200 pounds.
"It's got me started to the point that I wanted to go to the gym everyday," he said. "And now that it's over, I'm still going everyday."
About half the participants turned out for final weigh-ins. And in the end, the women - with twice as many members - lost 353 pounds compared to the men at 295 pounds.
Just as important as the slimmer waistlines is enthusiasm to stay fit, said Tony Jeffries, club general manager.
"The hope is that they'll continue on from here with healthier lifestyle choices," Jeffries said.
Carol Bolliger, assistant manager, said the program - created by the International Health, Racket and Swim Club Association - is seen as a way to make certain the usual New Year's declaration to get in shape doesn't fall by the wayside after January for old and new members.
"We wanted to be able to support our members and their resolutions," she said. "This just seemed like a great way to do it."
At the outset, participants were weighed and had their measurements and body fat percentages recorded. They checked in for weekly weigh-ins and worked with trainers to tailor their cardiovascular and weight-lifting regimens.
Free group classes were scheduled to introduce members to the benefits of Pilates or exercise ball workouts, while others focused on healthy eating habits.
Jeffries said one of the typical barriers to weight loss is unrealistic expectations.
"I think a lot of it has to do with shows like "The Biggest Loser," he said. "Those people work out five times a day and are given food made by a nutritionist.
"Most people can't do that on a normal schedule, but people still get discouraged and then they stop because they're not losing weight as fast as they want," he continued.
Educating participants about the benefits of setting short term fitness goals or the difference between lost weight and body fat was one of the program's underlying purposes, Jeffries said.
Cheryl Phillips of Monmouth shed 24 pounds and nearly 9 percent of her body fat during the contest. She credits the support among participants for getting her in the gym on a daily basis.
"It gave me encouragement because you have a bunch of other people doing it with you," she said.
Hilderbrand was diagnosed with diabetes in January, so exercise is crucial in helping control his condition, he said. Thankfully, the program has set loose his inner gym rat.
"I kind of miss it if I don't go in there everyday," he said. "But we're getting healthier, have lost lots of weight and have a lot more energy."
For more information: www.monmouthfit.com or 503-838-1410.