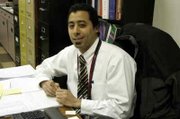 MONMOUTH/INDEPENDENCE - Melini Altermatt will conclude 23 years working in area elementary schools in June. Adil Abounadi, who has taught at Central High School for four years, is, more or less, just getting started.
While they're at opposite ends of their career, Altermatt and Abounadi have earned the respect and admiration of their peers all the same. Last week, they were named Central Education Association's elementary and secondary Teachers of the Year.
Altermatt and Abounadi will be honored at the Monmouth-Independence Chamber of Commerce Community Awards Banquet.
The event begins at 5:30 p.m. Thursday, March 20, at Western Oregon University.
"Most people don't brag about themselves or toot their own horn and neither one of these people do," said Helen Ames, CEA chairwoman. "But they do an exceptional job ... they're just quietly going about doing their thing."
-
Adil Abounadi
Adil Abounadi lived in Boston for nearly five years during the mid-1990s, working restaurant and service industry jobs. At one point, he had even become the retail manager of Cheers, the pub that was the setting for the television show of the same name.
"When I was doing retail, I found that I was often teaching people how to do things to improve the business," said Abounadi, who teaches math and geometry at Central High. "I thought, why not teach for a career instead?"
Abounadi, 37, was born in Casablanca, Morocco, and raised in Marrakech, a city of more than 1 million near the Sahara Desert.
Abounadi grew up middle class - his father was a police officer, his mother an elementary school teacher. He and seven siblings spent most of their childhood playing soccer "anywhere we could find an open space," he said. "Sometimes the ball wasn't even round."
After a few years in an engineering school, Abounadi decided to further pursue his education in the United States, thanks to a sister already living in Oregon and an interest in seeing some of the scenery made popular in movies, he said.
He enrolled at Eastern Oregon University in La Grande, quite a change from the sprawling, ethnically diverse metropolis of Marrakech.
"There was definitely culture shock," he said. "The culture was different; it was tough being away from family and mom's cooking."
Abounadi halted his undergraduate career to move to Boston, to experience life on the East Coast and try his hand at different jobs.
"I had to test different jobs to find out that teaching was the one I really enjoyed," he said.
He, his wife and daughter moved back to La Grande in 2000. Abounadi earned degrees in physics and math, and later a masters in teaching.
In 2004, he was hired at Central High.
Beyond his teaching duties, Abounadi is also the advisor for CHS's International Club and the assistant coach of the boys junior varsity soccer team.
"I love the fact that instead of focusing on only winning, the focus is on trying to get players to play as a team and to support each other," he said. "If they do that, the winning will take care of itself.
"It's just like school," he continued. "If you worry about learning the right way, the grades will take care of themselves."
Melini Altermatt
Most people dream of a job grounded in their favorite pastime. Maybe that's why Melini Altermatt, 54, has stayed in education for more than three decades.
"My hobby is school," she said. "I love planning units and deciding upon which lesson plan to use.
"You should see my house, it's wall to wall with children's books!"
Altermatt, who has taught at every elementary school in Monmouth and Independence since 1985, will be calling it a career in June. It's a humbling sendoff being tapped by her peers as a Teacher of the Year, she said.
"I didn't expect that at all," she said. "I've been very lucky ... there's a nice family feeling here."
Altermatt was born and raised in a Polish immigrant neighborhood in Southern California. Her proximity to the beach and affinity for scuba diving initially inspired her to become an oceanographer.
But she had a change of heart while sitting in a laboratory one day on the campus of California's Loyola Marymount University in 1972.
She says she remembers thinking, while hunched over a microscope studying the physiology of mosquitoes and other parasites, "I don't want to look at these little things for a living."
What she did enjoy was working as an undergraduate in the children's' section of a nearby library, Altermatt said.
"I liked reading stories to the kids and collecting books," she said. "Why not be a teacher?"
Altermatt moved in 1975 to Monmouth, where she enrolled at what was then Oregon College of Education. She taught for nine years at elementary schools in Albany before taking a job at the old Oak Grove School on Highway 22.
She taught for a year at Henry Hill Elementary School, then moved to Monmouth Elementary in 1989.
"I enjoy the kids' enthusiasm," she said. "They'll pretend and imagine with you."
Altermatt describes MES as her family, which makes sense: she's had all three of her children as students at the school. Her daughter, Krysia Bliss, now teaches third grade there.
"It was great having them all at one school," she said. "You only had to go to one place to see all their programs."