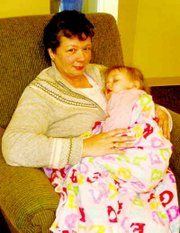 WEST SALEM - Nearly 200 Polk County "movers and shakers" - from state representatives to lawyers and mayors - gathered April 30 to celebrate the opening of Gracie's Place, a Family Building Blocks crisis relief nursery in West Salem.
While important guests were eating lunch, one of the most important guests slept through most of the event. Resting in the arms of her foster caretaker, Ellie, nearly 3 years old, snoozed through the description of the program that aims at creating a life for some of the most at-risk babies and young children from Monmouth, Independence, Dallas and West Salem.
She slept soundly through the appeal for donations. She was innocently unaware of the crowd that listened to the statistics that, to her, are a fact of life.
While most families have a problem or two that may put their children at risk for arrest and violence, the average Gracie's Place client is coping with 16 risk factors - drug abuse, homelessness, poverty and crime, to name a few, said Jeff Moore, a board member for the nonprofit organization.
Without programs like Family Building Blocks, children such as Ellie have nearly a 47 percent chance that they will either be arrested or the victim of violence, he said. Intervention at a young age reduces the risk of them being arrested or involved in violence to 3.7 percent, and doubles the chance that they will go to college, he said.
For every dollar spent on early childhood intervention programs, $7.60 is saved in future incarceration costs.
Gracie's Place, 1135 Edgewater St. NW in West Salem, is the 10th Family Building Blocks relief nursery in Oregon and the second in Marion and Polk counties.
Gracie's Place now serves 38 children between the ages of six weeks to five years - about 15 of those are served through home visits throughout Polk County. Many more are on a waiting list to get help, said Robin Taylor, site director for Gracie's Place.
The children come from homes full of chronic stress, violence, disability, mental illness, and drug abuse. Gracie's Place, where they learn coping and caring skills through therapeutic play and interaction with caretakers, provides children with a quiet haven away from the chaos.
The Family Building Blocks program includes home visits, where parents are taught skills they may have not learned from their own abusive parents.
"These are historic problems, but they can be changed. We can break the cycle of intergenerational abuse and neglect," said Sue Miller, executive director of the program.
Miller has already seen the program work, said Taylor. She said that 15-month-old Dylan, homeless child of a mentally ill parent, came to the program fearful and withdrawn, afraid to play with anyone else. Four weeks later, he's making friends and he recently helped comfort a crying child, rubbing the child's back.
Ellie slept through the story of her life. She came into state custody when she was five weeks old and has been with her caretaker, Brenda Wanner, since then. Ellie has also developed nurturing skills, said Miller.
As a result of Family Building Block's work with Ellie's father, the two are developing a relationship that portends future success for the family.
"Ellie is going to thrive. She's got a very good foundation," said Miller.
Those who want to find out more about Family Building Blocks can visit the web site www.familybuildingblocks.org. There's a secure link on the web site for those who want to donate online.
Information is available about volunteering, donations and services by calling 503-566-5032.