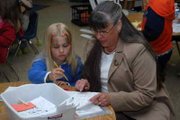 DALLAS -- Vickie Boer, principal of Oakdale Heights Elementary School in Dallas, will retire at the end of this year after 32 years as an educator in Polk County.
Boer, whose crowded office shows signs of long-term business, is already filling recycling boxes with papers.
"I've had so many prized moments. But I'll be glad to leave the long hours," said Boer.
The 10- to 15-hour days, the working weekends and the alarm calls in the middle of the night -- those she won't miss. The children, on the other hand, she'll have a hard time parting with.
"I think I've just always loved kids. Even when I was young, I loved to baby-sit," said Boer.
She was born and raised in Madison, S.D. She graduated from college where she met and married her husband Richard. The young couple, feeling adventurous and longing for milder weather, moved to Oregon, where they had previously visited relatives who live here.
In 1976, Boer took her first teacher's job in Valsetz, the now-defunct company timber town in the hills above Falls City. Boer lived in the teachers' dorms and taught kindergarten and remedial education, but the town was losing students as people were laid off.
"It was a big change for me and a fun adventure," Boer said.
By the time the town closed, she had landed her first job in 1980 in the Dallas School District, teaching special education and first grade at Whitworth Elementary.
The rest, as they say, is history.
She taught at Whitworth for seven years, then taught special education and managed a behavior classroom for the next two years. In 1989, she helped establish the Morrison School kindergarten program, starting as the lead teacher and eventually becoming the principal and Title I director. In 1997, kindergarten classrooms were moved from the Morrison School building and distributed among elementary schools. Boer was crowned (literally, she has a crown on her desk) principal of Oakdale Heights.
While she was teaching in Valsetz, Boer and husband Richard, who was working in the physical plant at Willamette University, started a family that today consists of two sons, Cody, 29, and Tyler, 27. Both of her children attended Dallas schools while she was a teacher. Today, Cody's children -- Kinzi, a first-grader, and Conner, in kindergarten -- attend the school where "grandma" is principal.
"I think for the most part, they don't mind," Boer said. Sometimes, she has lunch with her grandkids.
Boer's longevity means that she has seen at least two generations of students grow up and send their own children to her school. Most surprising to her was the day when she met one of her former kindergarten students in the teacher's lounge.
"My students are my colleagues," Boer wondered. "That's when I said, OK, I've been doing this for awhile."
Boer and her husband are retiring together. She said that their plans will probably involve a Harley-Davidson Road King, some black leather jackets, a couple of helmets and the wide-open road. Later -- when she's had a good, long break -- she might take in some reading, gardening and possibly a little substitute teaching.
The Parent-Teacher Club and school staff are inviting the public to celebrate Boer's retirement at a reception beginning at 3:30 p.m. Thursday, May 22, at Oakdale Heights Elementary, 1375 SW Maple St., Dallas.