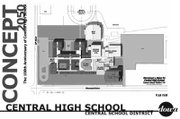 MONMOUTH/INDEPENDENCE -- Residents will decide in November whether or not they want to pay for a major reconstruction of Central High School.
Central School Board voted 6-0 last month -- with member Lonnie Guralnick abstaining -- to place a bond before citizens during the general election.
Superintendent Joseph Hunter said the move was a response to support for a bond in a recent community survey.
The board will settle on an exact amount at its June meeting. Hunter is recommending a bond between $44 million and $49 million, though more than half of those polled said they would back an amount of $55 million.
A final forum for public input will start at 6 p.m. on Tuesday, May 27, at Ash Creek Intermediate School.
Some residents will begin meeting to jump-start an information campaign, Hunter noted.
"We are moving forward aggressively now," he said.
Board members chose a concept in February that utilizes much of the existing high school building while gutting and reconfiguring interior space.
The design has changed somewhat since then -- though it still is not finalized -- with a classroom layout that now includes two-story classroom wings on the north side of the site.
Capacity for 1,200 students, a new football stadium, a 600-seat auditorium, centralized administrative offices and two clear entrances on the east and west sides of the school are some of the main elements of the project.
Results from a survey performed April 3-8 by The Nelson Group, a Salem-based polling firm, was the basis of the Central board's decision, Hunter said.
Consultants interviewed about 360 citizens by telephone regarding support of a bond and other district issues. Questions centered on a $55 million bond that would raise property taxes by 85 cents per $1,000 of assessed value and a $40 million alternative with no tax increase.
In addition to the high school improvements, the larger bond would also cover classroom expansions for the three area elementary schools.
Among the findings:
* When asked specifically about each bond alternative, 56 percent of respondents said they would support a $55 million bond. Fifty-one percent voted for the $40 million bond. Cost was one of the main reasons for opposing the more expensive option, while those who voted against the smaller bond said they didn't want to lose the elementary school projects.
* A significant portion who voted against both measures noted higher taxes as their rationale.
* Asked to choose between the two alternatives, 45 percent of respondents said they opted for the $55 million bond compared to 38 percent for the $40 million bond. The remaining 17 percent were either not sure, didn't like the proposal or wanted other options.
* The most serious problems in the district are overcrowded classrooms, lack of funding and outdated structures.
* Adding classrooms to the high school and grade schools were the highest ranked construction priorities; installing artificial turf on Central High's football field was the lowest.
* Eighty-three percent of the respondents indicated they would support at least one of the measures.
Hunter said he will recommend a $44 million to $49 million bond to the board in large part because of the recession. His suggestion wouldn't apply to elementary classroom expansion -- a key issue because of enrollment growth.
"The indication with the polling and the national economy what it is is that a tax increase would have a difficult time getting a positive response," he said.
The most current design also doesn't include roof replacements on existing high school buildings, artificial turf for the football field, or a cover over the stadium grandstand.
Guralnick said he abstained from the vote because of his impending resignation from the board. The Monmouth resident and Western Oregon University professor recently accepted a job at Roger Williams University in Rhode Island. But he would have opposed the bond alternatives because of some omissions, he said.
Capacity issues at Henry Hill and Independence elementary schools should be addressed now, while the high school athletic components and roof are needed if the building is to last the next 30 to 40 years, he said.
"The mistake is that a piecemeal approach will tire the community, especially with Chemeketa and the (proposed Monmouth and Independence) recreation district ... all trying to pass bonds," he said in an April 18 letter.
"My opinion is either pursue a high school bond with a new roof and do it correctly," he also wrote, "or pursue a bond that will be proactive and address capacity issues for the whole school district."
Hunter said the athletic projects ranked as low priorities in the survey. A roofing consultant reported that the roof didn't need to be replaced, just regularly maintained, he also said.
Hunter added that concerns about going for a bond in 2008 arose when the district sought a $13.5 million bond that passed in 2006.
"The fact is we've communicated well enough with the community and the polls show they're aware of the problems," he said.
For more information: www.central.k12.or.us/ or contact Joseph Hunter at JHunter@central.k12.or.us.