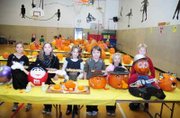 County Fair Board
seeking new member
Polk County is accepting applicants for an appointment to the Polk County Fair Board. The term is three years and candidates from all geographic areas of Polk County are encouraged to apply.
All applications must be returned to Becky Luker by Friday, Nov. 14, to be considered.
For more information or an application: Becky Luker, 503-623-8173.
Parenting class
offered in Monmouth
The Monmouth Chapter of American Mothers Inc. is offering a free positive parenting class from 7 to 8 p.m. on Thursday, Nov. 6, at the Monmouth Pubic Library, 168 Ecols St. S.
The group, which meets on the first Thursday of every month at the library, is designed to support and honor mothers. The meetings are open to the public.
For more information: Sheryl, 503-838-4190.
Community coffee
club meets Friday
A community coffee club hosted by Jim Sliker will be held from 9 to 10 a.m. Friday, Nov. 7, at Courtyard Coffeehouse & Deli at 156 SE Mill St., Dallas.
The public is welcome to attend and discuss current events, the economy, investing, and other topics in a relaxed, informal setting. Coffee is provided.
For more information: Colleen, 503-623-2146.
Assembly for veterans
planned by students
Faith Christian School will host its annual Veterans Day Chapel and Assembly program and luncheon from 10 a.m. to noon on Friday, Nov. 7, at 2290 E. Ellendale Ave.
All veterans and their families are welcome. Veterans planning to attend can bring memorabilia to display to help students learn about the life and work of a veteran.
For lunch reservations or more information: 503-623-6632.
MVCA schedules
fundraising auction
Mid-Valley Christian Academy is holding its second annual fundraising auction Friday, Nov. 7, starting at 5:15 p.m.
The event, which takes place at Monmouth Christian Church, 959 W. Church St., will feature antiques, collectibles, furniture, gift baskets, and more. A silent auction begins at 5:15 p.m., with an oral auction scheduled at 7 p.m. Dinner is available at 6:45 p.m.; cost is a suggested donation of $5. Child care is also available but advanced registration is requested.
For more information: Mid-Valley Christian Academy, 503-838-2818; www.rscookauctions.com.
WOU offers preview
to potential students
Western Oregon University will host Fall Preview Day II on Saturday, Nov. 8, from 8:15 a.m. to 1:30 p.m.
The event is an opportunity for prospective students and their families to learn more about Western. Program attendees will meet with WOU faculty and staff, tour the campus, and eat lunch at Valsetz Dining Hall.
For more information: WOU Office of Admissions, 503-838-8211; http://www.wou.edu/admissions.
Shriners Hospital
seeking patients
The Salem Shrine Club is looking for families with children who need free orthopedic health care.
Children from birth to age 18 are welcome to attend a screening clinic from 9 a.m. to 3 p.m. Saturday, Nov. 8, at Salem Hospital, 665 Winter St. SE.
Children with a treatable condition will be referred to the Shriners Hospitals for Children in Portland. All medical care at Shriners Hospitals for Children is provided free of charge.
The hospital is able to treat orthopedic conditions such as scoliosis, neuromuscular disorders, hand and back problems, lib length discrepancy, congenital hip problems, juvenile rheumatoid arthritis, and more.
For more information: Bob Barrowcliff, 503-763-9289.
Central Lions Club
to honor veterans
The Central Lions Club will be honoring local veterans during a gathering Monday, Nov. 10, at noon in the lower level of the Independence Elks Lodge, 289 S. Main St.
Guest speaker will be Oregon National Guard Adjutant Gen. Raymond F. (Fred) Rees, whose military career began in 1966.
The meeting will provide an opportunity to honor veterans and gain a better understanding of the Oregon National Guard's function.
For more information: Kathy Zehner, 503-838-0611.
Dinner fundraiser
on tap at center
Monmouth Senior Center is planning a ham dinner and silent auction fundraiser at 6 p.m. on Monday, Nov. 10.
Cost is $12.50 for adults and $8 for children 10 and under. Proceeds benefit the center's building fund. Tickets are available at the Monmouth Senior Center, 180 Warren St. S.
For reservations or more information: Babs, 503-837-0445.
Help with food
stamps available
The Oregon Department of Human Services has received a waiver from the Food and Nutrition Services to provide nontraditional sites where seniors 60 years and older can now apply for food stamp benefits.
Volunteers are available to assist seniors with food stamp applications from 1 to 3 p.m. Tuesdays at the Monmouth Senior Center, 180 Warren St. S.
Single seniors receiving a gross income of $1,604 or less or couples with gross income of $2,159 or less are eligible to receive these benefits.
For more information: 503-304-3460.
Donations accepted
for DHS food drive
Dallas High School is now accepting donations for its annual canned food drive at any of three designated locations.
Sites include Dallas High School's main office, 1250 SE Holman Ave.; Envy Spa Salon, 115 SE Court St.; and Bank of America, 791 Main St.
The 2008 school food drive is Nov. 17-21. A goal of 12,000 cans of food has been set.
For more information: Willow Dickerson, 503-779-8329.
Art pavilion to be
dedicated Nov. 12
A dedication of the Peter and Gwen Stone Art Pavilion will take place from 4:30 to 6 p.m. Wednesday, Nov. 12, at Western Oregon University in Monmouth.
The event, which coincides with the opening of a new art exhibit, will be held in the Cannon Gallery in Campbell Hall on the WOU campus. The event is free and open to the public.
For more information: 503-838-8147.
Tickets available for
Christmas Pageant
It's not too early to make plans to attend the 68th annual Rickreall Christmas Pageant, scheduled this year on Dec. 4-6 at 300 Main St., Rickreall.
Admission is free, but tickets are required to attend. Ticket orders are now being accepted.
Mail order requests for tickets will be accepted through Nov. 22 and can be sent to Rickreall Christmas Pageant, P.O. Box 43, Rickreall, OR 97371. Those interested in obtaining tickets should send a SASE, number of tickets needed, first and second choice for dates, and telephone number.
Will-call tickets may requested through Dec. 3 by calling 503-623-4720 or sending an e-mail to Christmaspageant@earthlink.net.
Radio group open
to new members
The Radio Operators Association of Dallas (ROADS) will hold its regular monthly meeting Thursday, Nov. 13, at 7 p.m. in the commissioners' conference room at the Polk County Courthouse in Dallas.
ROADS is a general purpose amateur radio club for the Polk County area with members whose interests include DX (long distance), public service and emergency communications, as well as educational and social activities.
Guests are welcome, especially those interested in getting involved in amateur radio.
For more information: Bob, 503-910-1096; or w7lou@msn.com.