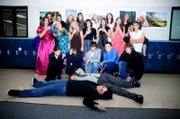 DALLAS -- Students at LaCreole Middle School want participants to determine who killed the headmaster in a murder mystery fundraiser Friday, Nov. 7.
From 7 to 9 p.m., groups of 30 will pay at the door and be led to areas of the middle school decorated as the crime scene, drama and language arts teacher Juli Ann Lindemann said. The group will watch students act out the scene in which the headmaster of Saint Cake's Academy is killed. It then has 20 minutes to find out who killed him.
"The actors are excited," Lindemann said. "It's been fun to watch them embrace it."
The cost is $3 for students and $5 for adults. Proceeds will help the eighth-grade class pay for a trip to Washington, D.C. and New York in June. Admission grants participation in the murder mystery and cake donated by parents.
Lindemann said more than 100 LaCreole students are participating in the fundraiser by acting, moving sets, applying fake blood to characters, helping with costumes and guiding groups of participants.
"It involves a lot of students and it seems like a really good story," eighth-grader Kelli Crawford said.
Crawford plays Charlotte Lemon, head girl at Saint Cakes, who is part of the mystery. Crawford said she enjoys acting and this is a great way to get her to New York to see Broadway plays.
The mystery takes place at an English boarding school, so the middle school will be decorated to illustrate this and the costumes reflect the formal setting of the boarding school, Lindemann said.
This is the first murder mystery event the school has held, and the mystery was picked because the name included cake and Lindemann said she knew she wanted to have dessert with the fundraiser.
The materials Lindemann purchased from the mystery theater company did not come with a script, so she wrote one for the students to get a better understanding of how the mystery will play out, she said.
Each eighth-grade student will need to raise $1,800 to go on the trip and other fundraisers will include a bowl-a-thon, selling pies, pepperoni sticks and candles, and an activity night.
Eighth-grader Kali Marquez said she is working hard to raise money as she wants to go to New York because it is a fashion capital.
For more information: 503-623-6662.