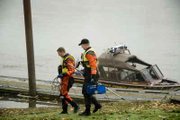 INDEPENDENCE -- Just before press time Tuesday, authorities found the bodies of two local brothers who vanished while fishing from the shore of Riverview Park on Nov. 16.
Alvin Troub, 20, and his 8-year old brother Michael Runyon were not far from one another when they were pulled from the Willamette River by trained divers, said Independence Police Chief Vern Wells.
Officials suspected for the past couple of days the brothers somehow fell into the frigid, fast-moving river and perished.
Wells said the spot where the fishermen were found was 12- to 15-feet deep and that visibility for divers was so poor that "they had to feel around down there with their hands."
Wells said Troub and Runyon's family did not wish to comment to news media about the situation Tuesday, but that they had expressed thanks for the efforts of search-and-rescue crews.
At its peak, that team included boats from four emergency agencies, canine units, 54 personnel on foot and a National Guard helicopter.
"It's nice that we have closure for the family," Wells said, "but this is certainly not a nice ending."
According to police, Troub and Runyon were dropped off at the park by their grandfather about 2 p.m. on Sunday for what was to be a short fishing outing on the river bank.
The grandfather returned to pick them up at 4 p.m. as planned and found their fishing rods, tackle boxes and equipment sitting near the concrete pad above the boat dock.
The items were packed -- as though they were preparing to leave -- but there was no sign of the pair, Wells said.
Laurie Runyon, an aunt of the two, said on Monday that "Mikey" was autistic and would not have gone far from Troub. That his fishing equipment was left unattended was strange because "he's very protective of it," she said.
Runyon said she and other family members arrived at the park on Sunday in the early evening, honked car horns and yelled out to the brothers. Several messages left on the cell phone Troub had on him went unanswered, she said.
Relatives reported the situation to police. Since then, fire and law enforcement personnel from several state, county and local agencies joined the search, which had been hindered throughout by dense fog.
Boats from the Polk County Marine Patrol and Salem Fire Department cruised the river late Sunday and all of Monday, while rescue teams with dogs combed the west and east banks.
"Divers have been saying visibility under the water is 9 inches to a foot," Wells said. "They've had to search by feeling around."
The search mission centered on a quarter-mile stretch in front of the park and downstream.
Rescue divers from several regional emergency agencies were brought in Monday afternoon, and examined spots of the river where dogs had picked up human scents -- one site about 150 feet from the dock and another off the bank hundreds of yards to the north -- but nothing was found.
The Oregon National Guard deployed an OH-58 Kiowa helicopter to survey the area from the sky on Monday. Authorities also tried unsuccessfully to "ping" Troub's phone to approximate the location of his last call.
"Even when a phone is off, you can get a ping," Wells said. "But the company said either (Troub's) battery was dead or the phone was broken."
Officials stopped their search on Monday evening because of darkness, and began a recovery operation early the following day.
Troub's body was recovered at approximately 12:30 p.m. on Tuesday, and his brother's, about 1.5 hours later.
Polk County Fire District No. 1 had set up a trailer and provided food for family members who had more or less remained at the park since the disappearance.
After a couple of days spent answering questions from television and newspaper reporters who had descended upon Independence, Troub and Runyon's relatives stopped taking interview requests Monday night.
"They're really emotional right now," Wells said. "And understandably so."
Earlier, Laurie Runyon said Troub was trying to complete a GED program and had talked recently of enlisting in the Army. Michael Runyon was a third-grader at Independence Elementary School.
Despite their age difference, the two were "buddies" who often fished at the park together, a tearful Laurie Runyon said.