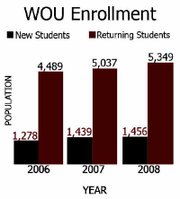 MONMOUTH -- Enrollment at Western Oregon University climbed to its highest level ever this fall.
Headcounts released by the Oregon University System (OUS) on Nov. 13 showed the school at 5,349 students, a 6.2 percent increase from last year -- or 312 new students.
The university's student body has risen by nearly 10 percent since 2006-07.
Dave McDonald, associate provost at WOU, said contributing factors for the growth at Western include a 21 percent jump in new transfer students and a 72 percent retention rate of students between their freshman and sophomore years.
Western's entering 2008-09 class consists of 934 freshmen and 562 transfer students.
Nearly 20 percent of the incoming class -- excluding international students -- was comprised of students from ethnic minorities. Fifteen percent of the freshman class are from Washington, California, Alaska and Hawaii.
McDonald said the "Transfer Advantage" program implemented last year -- it entails a focused orientation process, course articulation to aid in the transfer of credits and academic advising -- along with a duel enrollment initiative with Chemeketa Community College and the four-year fixed tuition rate have provided a major boost to the transfer demographic.
"(OUS) has done a good job in the last four years connecting with community colleges," he added. "We're seeing the fruits of that effort right now.
"As the economy continues as it is, we'll probably continue to see students try to (find) the most efficient ways to gain college credits."
OUS officials said a major increase in state need-based financial aid -- the Oregon Opportunity Grant -- has also helped. Almost $34 million was awarded to undergraduates in the state in 2008, compared to $13.4 million the previous year.
Overall enrollment at the state's seven higher education institutions and regional campus grew by 5.2 percent to 86,546, according to OUS.
Eastern Oregon University had the greatest percentage jump among schools, at 6.8 percent, followed by Portland State University at 6.4 percent and then Western.
Undergraduate and graduate enrollment statewide increased by 5.4 percent and 4.6 percent, respectively.
Some logistical challenges have accompanied Western's enrollment trend.
Because of demand for on-campus housing, the university added nearly 200 extra beds by opening Maaske Hall, the former quarters for cadets at the old Oregon Police Academy, and utilizing units in three residence halls that have traditionally housed three students per room, but have space for four.
Officials expanded the university's Honors Program this year, accepting 40 students instead of 25 in response to a dramatic increase in applications for admission. Rachel Heider, assistant to the program director, said the Honor Program may add additional slots in the coming years.
"Before, when we had applications, we admitted almost all of them," Heider said. "Now we're turning away a lot more people."
McDonald said there have also been personnel additions to the university's advising, financial aid and writing center staff this year.
"There is increased demand for services," he said. "I think we've done a good job of anticipating that."
In recognition of growth in the international education program -- there are 305 students, 63 more than last fall -- Western has become a key player in a development project in downtown Salem involving the Marion Parkade.
About 18 living units and 6,500-square feet of classroom space would be built atop the structure and leased by Western to accommodate international students.