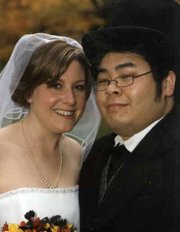 Kirkland-Chin
Darcie Lynn Kirkland of West Salem and James Chin of West Salem were married Oct. 31 at Gentle House in Monmouth.
The bride is the daughter of Louise Kirkland and Michael Kirkland, both of Dallas. The groom is the son of Janny Chin of Dallas and the late Danny Chin.
Eric Bleich officiated the ceremony.
Matron of honor was Tonja Wall. Bridesmaids were Tara Davies and Kristen Rivera. Flower girl was McKenzie Davies.
Best man was Brianna Roby and groomsman was Rachel Dickey.
Darcie, a 2002 graduate of Dallas High School, attends Chemeketa Community College and is a bookseller at Borders in Salem.
James, a 2001 graduate of Dallas High School, is a 2007 graduate of Western Oregon University in Monmouth and a credit card representative at Wachovia Call Center in Salem.
The newlyweds honeymooned at the Oregon Coast and make their home in West Salem.