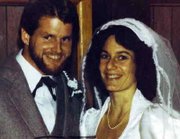 Walton -- 25th
James and Donna Walton of Dallas recently celebrated their 25th wedding anniversary with a trip to the Oregon Coast.
James Walton and Donna Young were married Nov. 25, 1983, at Grace Community Church in Dallas.
The couple has resided in Polk County for 25 years.
James is a water supervisor for the city of Dallas. Donna retired in 2006 as a school secretary.
The Waltons enjoy trips to the coast, gardening, and remodeling their home.
Their family includes Bethany Walton and Bryan Walton, both of Dallas.
More like this story