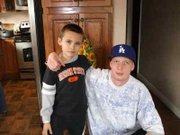 INDEPENDENCE -- Michael Runyon's classmates and teachers at Independence Elementary School describe him as friendly and creative, "with an infectious smile."
Pastor Michael Parks of First Baptist Church said Runyon's older brother, Alvin Troub, had recently been baptized and was seeking to reconnect with his faith.
Separated in age by a dozen years, the two local brothers were "buddies" who enjoyed spending time with one another and shared a love of fishing, said Laurie Runyon, their aunt.
Tragically, Michael Runyon, 8, and Troub, 20, drowned on Nov. 16 during one of their many angling visits to Riverview Park. Their bodies were recovered two days later, after an exhaustive search by more than a dozen regional emergency agencies.
On Nov. 22, friends and family members said goodbye to the pair during a public service at First Baptist Church and a small, private burial in Lincoln City.
"Everybody is hanging in there, but it's hard," Laurie Runyon said in a brief phone interview on Nov. 20. "We're not doing too well, but we're trying."
Steve Tillery, IES principal, said grief counselors were on hand at the school the day after the brothers' bodies were found to help children cope with the news.
"It was a sad day in our building," Tillery said. Runyon, a third-grader, "had a lot of friends."
Mandy Olsen, Michael's first- and second-grade teacher, said the boy was "respectful, kind and happy," and was always eager to please others.
"He loved to write long stories," Olsen wrote in an e-mail to the Itemizer-Observer, "especially stories about (the video game character) Sonic the Hedgehog."
Laurie Runyon said Troub had been trying to finish his GED so he could join the military. "He was determined ... he really felt that that was what he wanted to do," she said.
Pastor Parks said Troub began attending First Baptist Church regularly a couple of months ago with his mother and had expressed a desire to strengthen his faith.
Troub was baptized on Nov. 9 and came to a morning service the day of his death the following Sunday, Parks said.
"You can imagine our shock to have seen him that Sunday and then have this happen," Parks said. "I was impressed with the depth of his convictions ... Alvin had a very sensitive heart and was compassionate."
Troub and Runyon were dropped off at Riverview Park by their grandfather at about 2 p.m. on Nov. 16. There was no sign of the two when the grandfather returned a couple of hours later, though their fishing poles and gear were found sitting by a concrete pad near the boat dock.
Family members contacted authorities, who conducted the largest search-rescue-recovery operation in Independence in the last 20 years, said Police Chief Vern Wells.
Fifteen agencies from the state, several counties and municipalities took part in a two-day mission hampered by chilly and foggy conditions. The Oregon National Guard also deployed a helicopter to sweep the area.
"We had fantastic coordination," Wells said. "It's pretty phenomenal."
Wells said there was little new information regarding the events of that day. He did note that Troub's cell phone provider reported there was a call made from Troub's phone about 4:05 p.m. on Nov. 16 -- about 10 minutes before the boys' grandfather arrived to retrieve them.
"It was a very short period between when the phone was working and when it wasn't," he said.
Wells also said one person reported seeing the boys fishing that afternoon, but nobody witnessed the drowning.
How exactly Troub and Runyon ended up in the water will probably never be known, Wells said.
But the belief among search team members is that Runyon -- who couldn't swim -- may have gotten too close to the water and fallen in, and that his older brother jumped in to rescue him.
"It's the only scenario that makes sense," Wells said.