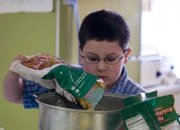 PEDEE -- With three turkeys cooked, pies finished, vegetables boiling on the stove, and 25 pounds of peeled potatoes waiting to be mashed, the students from Luckiamute Valley Charter School turn their attention toward their next task: the stuffing.
Half a dozen of them dutifully chop celery, dump bread crumbs into bowls and dice onions, the latter causing noses and eyes to run freely. The lone girl among the group, seventh-grader Jessie Beasley, appears cheerfully unaffected.
"I like to cook," Beasley said. "I do it in 4-H."
LVCS held its annual Thanksgiving Dinner for community members in Pedee on Nov. 21. Per tradition, the feast was prepared by a small group of parents, fifth- and sixth-grade students from the Pedee School, and fourth-graders from the Bridgeport campus.
"This is really fun," said Severo Rodriguez, a fifth-grader. "It's something to do ... and it gets us out of doing work in class," he added with a smile."
Dan Austin, LVCS director, called the dinner a "thank you" to board members and others who have helped support the school. It also illustrates camaraderie within the small, tight-knit community and the importance of maintaining ties with past alumni, he said.
"We've had several gals here and they were well in their 80s," Austin said. "They shared stories ... of how they used to walk to school for miles, rain or shine."
Families of students are asked to donate bags of potatoes, cans of corn, and other food items for the dinner, while members of the Parent Teacher Council purchase, cook and bake the turkeys, pies and rolls. The children handle the additional prep work.
"The pre-planning is kind of intense," said Cali Beasley, PTC secretary and Jessie's mother. About 80 people attended the dinner, which was served in the auditorium of Pedee School.
The gathering has occurred annually for at least the last two decades, said Ethelene Osgood, 70, of Pedee, who worked as a teacher's aid and secretary at the school for 10 years until 1978. She said it's an important local tradition that she's only missed once.
"Pedee School used to do a Christmas party, and a harvest festival on Halloween," she said. "This is the only event left that involves the community."
The dinner gives her and other long-time residents a chance to meet with children enrolled at the Pedee school, but actually live in Monmouth or Dallas, Osgood said.
"And I think it's good for the kids ... to get to know us," she said. "I hope they understand it means a lot to the people who come to it."