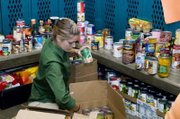 POLK COUNTY -- As food banks in the region are reporting low supplies, Polk County communities are stepping up efforts to help feed the hungry this holiday season.
The Dallas School District is supporting Dallas' Christmas Cheer and the Dallas Area Community Holiday Project by running a districtwide food drive.
LaCreole Middle School's drive runs from Dec. 1-19, Lyle Elementary's runs from Dec. 1-12, and Oakdale Heights Elementary's runs Dec. 8-12. Dallas High School and Whitworth Elementary School finished their campaigns before Thanksgiving.
Central School District is gearing up for its food drive campaign, which begins on Monday, Dec. 3 (see story, Page 8A).
The Central Area Community Holiday Project is also taking applications for needy families.
The Dallas Area Chamber of Commerce is collecting peanut butter for the first peanut butter drive, and Christmas Cheer will set up its mini grocery store at LaCreole Middle School Dec. 24. Local churches and city organizations will offer free meals. The Darr family is collecting warm winter clothing at Starlite Bowling Lanes at 394 Main St. in Dallas.
Students gathered at Dallas High School Nov. 20 to go door-to-door collecting food. The students chattered excitedly with friends as they were about to embark on their crusade.
"It's a fun way to (collect food) for people who don't have enough food, and it's a good time to help," student Ashley Harlow said.
The students collected 3,000 cans that night and 6,000 cans through the school's entire food drive to benefit local charities.
The community can also "adopt a family" for about $100 and provide food and gifts to those in need for the holidays. Giving trees are sprinkled through the county at grocery stores like Safeway and Dallas Select. Gift tags on the trees bear the wish list of toys of needy children that can be purchased by those who want to help.
Those in need of assistance can contact school counselors or state case managers who will have applications. The community holiday projects can be reached by calling 503-623-9664 in the Dallas area and 503-339-4955 in the Central area, which serves the Monmouth and Independence communities.
Emergency food boxes can be obtained at the Dallas Emergency Food Corp. at 322 Main St., Suite 180, in Dallas; Dallas Seventh Day Adventist Community Center at 589 SW Birch St.; Falls City Seventh Day Adventist Community Center at 205 N. Main St.; Ella Curran Food Bank at 840 North Main St. in Independence; and the Grande Ronde Community Center at 8725 Grande Ronde Road.