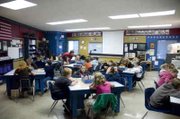 DALLAS -- With a lack of parking, no cafeteria and two less-than-desirable modular classrooms, the problem with Oakdale Heights Elementary is really how it's constructed.
Even though it is over capacity, Oakdale does not seem to be bursting at the seams as badly as other facilities such as LaCreole Middle School.
Oakdale was built in 1975 and has since added two modular classrooms. It is the newest facility in the district despite being more than 30 years old. Student capacity of the building is 412; there are currently 430 enrolled.
Oakdale was designed in what Caleb Harris, its principal, called "California-style." The library is at the center of the main building, the walkways are open to the middle and connected pods are arranged around the center hub.
One wing on the side of the covered playshed houses kindergarten, and the older grades are located in the central pods.
Because of this design, adding classrooms onto the building and achieving a central location is impossible, Harris said, as evidenced by the modular that holds music and special education.
Although not extremely overcrowded, classrooms are certainly full. Oakdale, like Lyle Elementary, is trying to look ahead to the future and plan for continued growth. One day in the future, the state will mandate full-day kindergarten, and Harris said this will create a problem.
"I don't know where we're going to put them," Harris said.
The school's gym, which has a capacity of 300, means this school also needs fire watchers for all-school assemblies.
Every classroom is being used, and some spaces are being used differently than originally intended. Conference rooms once used for meetings now serve as speech and English as a Second Language instruction rooms, and a nurse's exam room is now being used to house student files because there simply is nowhere else to put them.
There is only one computer in each classroom, and one 30-computer lab that is often scheduled for mandated state testing.
"Kids don't have much access to computers," Harris said.
Harris said the best thing that the proposed $79.5 million school bond will do is move 100 kids into another school.
"Some class sizes are ideal right now, but they don't always stay that way," Harris said. "One hundred less kids in this building means a lot more services can be provided."
Without the 100 children, special education could be moved back into the main building and music classes could be as loud as they wish. This could also provide the extra room for full-day kindergarten, Harris noted.
With current projections, Oakdale enrollment could reach 470 as soon as 2012.
If the bond passes in November, a new high school will be built at the corner of Ellendale Avenue and Fir Villa Road. The middle school will inhabit the current high school facility, and the middle school will become a fourth elementary school.
The bond, if approved, would cost district residents $4.09 per $1,000 over 25 years. A rate of $2.42 will be added to the existing $1.67 per $1,000 from a previous bond until 2012, then the $4.09 total rate would continue until 2034.
The money allocated to Oakdale would pay for building upkeep and improvements, such as installing phone lines in classrooms and expanding parking.
Harris said even though teachers are asked to park at the nearby church or down the hill from the school, volunteers and parents have complained about still not being able to find a parking slot.
Many volunteers are not physically able to park at the bottom of the hill and walk up. Community members have told Harris they would volunteer if they could park closer, he said.
"The more involved we get our parents in their child's education, studies show, the better they will do," Harris said.
Despite his growing concern of the housing development progressing next to the school that could bring in more students, Harris knows he will have to accommodate them.
"We make do," he said. "We open our doors to whatever students come through."
For more information on the issue of overcrowding in Dallas schools, visit www.dallas.k12.or.us.