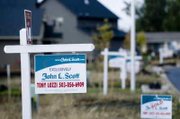 POLK COUNTY -- Stop.
Do not pull all of your money out of the bank and put it under your mattress or in a shoebox.
Take a deep breath because even though the headlines are frightening, local financial advisers say economic times just aren't as bad in Polk County as other places.
Ken Jundt, coast/valley regional president of West Coast Bank, said business has increased at the bank despite the Wall Street bailout and housing market crisis across the country. Other lenders fearing the credit crunch may now have higher interest rates and fees, but his bank does not. Inside his bank, he said there is strong growth.
"Business has been really brisk and very good for us," Jundt said.
News of losses in the housing market is also making people nervous.
Broker Yolanda Zuger with Windermere-Western View Properties said she recently held an open house and buyers, whom she said were not inexperienced, were concerned about not being able to acquire a loan.
"It's just simply not true," Zuger said.
However, she admitted it may be tougher to get a loan than one year ago and buyers with substandard or average credit may need larger down payments or have to use government loans because of tensions caused by the credit crunch hyped by the media, Zuger said.
She said it's not all doom and gloom, but it's a different and tougher market.
On the other side of this, buying a home right now could be a good idea because the prices are so low, Zuger said. The average home in the Polk County area is selling for $228,000 this year, compared to $232,000 in 2007, Zuger said.
Favorable interest rates, loan availability and lower home prices means some would-be buyers may now be able to afford homes.
"I read an article a Realtor wrote the other day and she referred to this as the perfect storm from a home buyer's standpoint," Zuger said.
Banks are afraid to loan to each other right now because they do not know if the other banks will be able to pay back the money, said Jeffrey Laeng, a certified mortgage planning specialist from Avenue Mortgage in Dallas.
There are still loans available for individuals to purchase homes, but the guidelines have become more stringent, Laeng said. A recent statistic shows 95 percent of individual home owners are still paying their mortgages on time.
Those selling their home need to have competitive pricing and their home in good condition, and expect to be on the long end of the market, Zuger said.
"We had sellers who would put their house on the market just to see what it would do," Zuger said. "This is not the market to do that."
Laeng said Polk County is not getting hit as hard as other areas and that it's still doing well.
Zuger said in August, Oregon foreclosed one home in 887 with a mortgage on it, and California foreclosed one in 129. Polk County foreclosed one in 967 and Deschutes County in Central Oregon foreclosed one in 345.
Still thinking about pulling your money out of the bank?
"This is a knee-jerk reaction to a lot of news," Bob Timmerman from Edward Jones in Dallas said.
Check to see if your bank is FDIC insured, Timmerman said. If it is, your money is safe up to a certain amount. With the bailout bill passed last Friday, that amount could be as much as $250,000.
FDIC is an insurance company that guarantees principal and interest until banks close their doors, Timmerman said. If a bank does close, people should receive their money in about two to three weeks.
He said he knows things are tough and it feels like a recession, but investors will have to ride out the tough times.
"Panic is not an investment strategy," Timmerman said.
Stocks may be disappointing now, but it's not a disaster, he added. In his opinion, the bailout bill was the best available option to stabilize the market and restore confidence in the banks.
Some people may have a tougher time getting loans, he said, but it's not impossible.
"It's not as though we've never had major economic issues before," Timmerman said. "It's kind of like getting back to responsible lending. This too shall pass."
He suggests investors watching their stocks plunge think about the future and the big picture.
"Don't panic, just take the necessary precautions and be patient," he said.