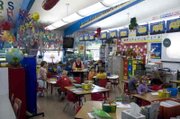 EDITOR'S NOTE: This is the final installment of a five-part series examining overcrowding in Dallas schools as it relates to the district's $79.5 million bond request.
DALLAS -- Not all of the schools in the Dallas School District are equally crowded. Some have a little room to breathe.
Based on capacity and the feeling of the school, LaCreole Middle School is at the forefront of the issue -- but Whitworth can make its case as well.
New subdivisions being constructed in Whitworth's attendance area means more kids with no space to put them. Whitworth Principal Steve Martinelli said enrollment had jumped from 450 to 492 students over the past four years.
Enrollment could reach as high as 502 in 2011, based on projections.
"We love all kids and we're not going to turn anybody away," Martinelli said.
However, the school year starts right at its capacity of 437 students and the number will increase as the year continues, Martinelli said, as it does every year. After five remodels, it boasts a multipurpose room and spacious gym, which the other elementary schools in the district lack.
Storage space, however, is a burden on teachers. They are often seen crawling on their hands and knees to reach materials stored in the halls and under old shower heads.
Martinelli said he is frustrated with Dallas residents who say there is no overcrowding in the schools.
"We're seeing more significant (numbers) of students than 20 years ago," Martinelli said. "Please, come take a tour of our school."
Large first- and second-grade classes are being blended with smaller grades to reduce class sizes.
Martinelli said he has talented teachers who can handle the age differences and adjust curriculum accordingly, but it can be difficult with subjects such as reading. Martinelli said the reading programs for each grade have specific requirements that may be difficult for a teacher to meet with different ages.
"(One teacher) is feeling quite overworked this year because of balancing two different curriculums in one classroom," Martinelli said.
Classes in fifth grade are now at 30 to 32 students and such large class sizes are strenuous on teachers, Martinelli said. One teacher retired early last year as she was simply worn out because of the number of kids in her classroom and storage issues.
Martinelli said the best thing the $79.5 million school bond could do for his school is reduce enrollment figures. This would bring class sizes down to 20 to 25 students and could provide the space for full-day kindergarten.
The principal said 60 percent of the school children at Whitworth receive free and reduced lunch, and full-day kindergarten would give lower-income students a better start to learning.
"It will be one of the key things to turn around the (students in) poverty," Martinelli said.
However, some residents have expressed concern to Superintendent Christy Perry that passing the school bond will leave them in poverty in these poor economic times.
"The vote only gives us the authority to sell bonds," Perry said.
There will be a citizen's advisory group monitoring the market that will help the board decide when to sell should the measure be approved.
As for the cost of new teachers, Perry said the high school and middle school staff will transition into the new facilities, and increasing enrollment will help pay for the number of new teachers needed. Maintenance for the facilities will be funded the same way through the general fund.
Perry said district residents, regardless of position, need to be informed and vote on this measure as it is part of the community decision-making process.