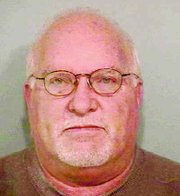 DALLAS -- A former Dallas barber will spend 64 months in prison for several sex crimes involving minors.
Bruce Elliot Benkle, 57, was convicted of two counts of attempting to use a child in display of sexually explicit conduct, two counts of attempted first-degree child abuse and four counts of third-degree sex abuse.
Polk County Circuit Court Judge sentenced Benkle on Monday. Benkle was arrested in November 2007 for abusing five girls and one boy. The incidents occurred during different periods in 2006 and last year. The victims were between the ages of 12 and 16 then, said Polk County Deputy District Attorney Tim Park.
Benkle would allow the children to hang out at his business in the 1200 block of SW Fairview Avenue, and would provide them with money, cigarettes and sodas, Park said.
It was at the shop where he groped and inappropriately touched some of the victims or photographed them. Pictures discovered by investigators on Benkle's computer showed some of the girls topless or wearing his barber's smock, Park said.
As part of a plea negotiation, 12 other charges were dismissed against Benkle.