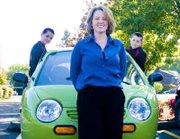 DALLAS -- The three can be seen driving the little lime green car around town blasting a "Kidz Bop" CD.
Dallas resident Emily Gagner and her twin boys Daniel and Grady have won a prize for their environmentally friendly lifestyles.
In August, Gagner submitted a letter to Electric Wheels Inc. about why she purchased her Zebra electric Zap Car. She and her 8-year-old sons' enthusiasm for reducing the family's impact on the environment won her first place and a new Zappy Pro electric scooter.
"I've always worked toward not impacting the environment too much," Gagner said. "It's funny because we'll be driving down the road and the boys will see the big SUVs with one person in it and they're like 'Ugh!' (They're) just so disgusted."
Gagner said she was not looking for a new car to replace her 1993 Metro. However, in May 2007, the family was driving in Salem and saw one of the electric cars. They stopped at the dealership and looked at a couple of models. Gagner said she was sold when the salesman said they had a green one coming off the truck in the next week.
"I told (the boys) it's a green car in every sense of the word," Gagner said.
The car is completely electric and takes eight hours to charge. Gagner said she can drive about 25 miles in the vehicle on one charge.
She drives the Zap Car 98 percent of the time, but still uses the Metro when it is cold outside or if she has to travel long distances, she said.
"I love our Zap Car because it is so quiet and doesn't stink up the air," Grady Gagner said. "Our environment is very important to me."
Owning the car has made the family more environmentally friendly in other areas around the home. She said she has recently purchased an electric lawn mower, hung a clothesline to dry laundry, changed to energy efficient light bulbs, and uses cloth bags for grocery shopping.
Gagner's dream is to one day install solar panels on her roof, but said the cost of such a project is holding her back.
"If I could get my electricity for my car from the sun, there would be completely zero air pollution," Gagner said.
The family will pick up its new electric scooter on Oct. 27. Although it was not on Gagner's wish list, her sons suggested she could use it to walk the dog.