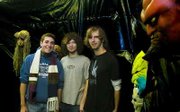 MONMOUTH -- Transforming their Bentley Street residence into an elaborate haunted house has been an annual Halloween night occurrence for the McCammon family, one that usually draws a couple hundred trick-or-treaters eager for a thrill.
But for a while, it appeared last year's edition would be the last, Jake McCammon, 17, said.
"We utilized the garage and backyard ... and most of the stuff stayed up until February," McCammon said, sheepishly. "This year, mom was like, 'Yeah, we're not doing it again.'"
Rather than let the tradition die out, McCammon and fellow Central High seniors Will Wagmon and Adam Grund-Clampit decided to create another haunted house, but on a grander scale.
They're turning the old Monmouth Fire Station into a macabre attraction the evenings of Oct. 31 and Nov. 1, complete with fog-filled hallways, coffins, eerie sound effects, and a rather unsettling playground scene.
"I think even if we tell people what we're going to do, we'll still going to scare the crap out of them," McCammon said.
It's all for a good cause.
Their haunted house is a senior project. Admission is a suggested $2 donation and all proceeds will go to the Central High Band, of which they're members.
Getting the idea off the ground took some doing and community involvement, McCammon said. The boys scouted a couple of sites to use before approaching the city of Monmouth. Officials offered to let them take over the fire station.
After learning the event required insurance coverage, they and their parents found a Florida-based company that does policies on haunted house attractions.
The three had most of their own props -- oddly enough -- but still needed supplies. Muller Lumber Co., Monmouth Hardware and True Value Hardware in Independence donated scrap lumber, 7,000 square feet of black plastic and other materials.
"We knew going door-to-door was how you would have to get things done," McCammon said. "But we were surprised how fast we did it and how generous the businesses were."
The students have been constructing wall frames, hanging black plastic for narrow hallways, tinkering with a sound system and dozens of strobe and black lights.
McCammon's father and project member mentor Scott Weaver, two homemade-haunted-house veterans, have assisted.
"We work on it pretty much every day," Wagmon said. "It's taken over our lives for the past couple of weeks."
The house will include a maze of narrow hallways -- with tunnels built for volunteers to move around the production -- air compressors to blast unsuspecting attendees, and a dummy that will be propelled from a random corner via pneumatic pump.
Grund-Clampit said the group tried to incorporate darkness, disorientation and "ambience" into the house, rather than cheap gags.
"There's always somebody standing around with a chain saw," he said, before stressing, "we're not doing that."
The haunted house, located at the old Monmouth Fire Station on Warren Street, across from Main Street Park, will be open from 7 p.m. to midnight on Oct. 31 and Nov. 1.
Admission is free, but a $2 donation is suggested. All ages are welcome.