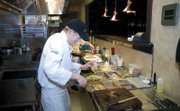 DALLAS -- After a year and a half of hard work, Dallas now has an upscale dining experience full of fresh, local ingredients to feed the soul.
L'Attitude Point One on the corner of Main and Court streets in downtown had its soft opening Sept. 24.
"I feel like it's taken on a life of its own," Executive Chef and Partner Janette Sinclair said. "I've put my heart and soul into it."
Sinclair joined the project with owner Marlene Cox in March of 2007. Sinclair said she had been looking to open a restaurant in the mid-Willamette Valley, and the 1890 building and the partnership with Cox made moving from Arizona an easy decision.
"This building is what sealed the deal for me," Sinclair said.
Cox said Sinclair is an industry expert and just what she was looking for as she wanted to bring in a professional chef. Sinclair's passion for promoting the region's wine industry was also a draw for Cox.
The restaurant's name, L'Attitude Point One, was selected because Dallas sits at 44.9 degrees North latitude, only .1 degree from Bordeaux, France, known for its local vineyards and food.
Diners enjoy their meal in the warm space under the tall windows that provide a perfect view of the county courthouse. The mix of historical and contemporary aspects, such as the original brick walls with the hand-painted bar, makes those in jeans and formalwear equally comfortable.
Everything in the kitchen is made from scratch, and the ingredients are from local, sustainable farms. Sinclair said her menu, which is basically everything that she loves to eat, includes seafood, chicken, pork, buffalo, steak and duck.
Her fish is caught in Northwest waters, the buffalo is from a local farm and extra food goes to pigs at Eola Hills, which may one day be used to feed customers.
Sinclair said early favorites among diners are the duck confit rillettes, slow roasted and served with Oregon berry preserves, and the buffalo meatloaf served with blue cheese mashed potatoes, green beans and crispy onion haystacks.
Sinclair does not consider the menu "fine dining," which usually starts at $60 a plate, she said. Her entrees for dinner range from $11 to $32. Customers can get a glass of Oregon Pinot Noir for $5.
Obtaining Sinclair's vision for the restaurant was a difficult task that included ripping up floors, scrubbing grease away and repainting the top of the bar the night before opening because the top coat of sealant ruined the original work.
"I said 'if we have to work 24 hours to open, we will,'" Sinclair said.
Even though the menu is becoming more concrete, she said the official grand opening may not be until spring because she and Cox don't want to rush anything. After that, she said she expects to be a large part of the community and hold fundraisers and holiday dinners.
Sinclair is just happy to finally have found a real home in Dallas in her historical building that she believes truly has its own soul.
"I'm a farm girl from Utah, so I feel really comfortable here," Sinclair said.
For more information: L'Attitude Point One, 503-831-1588.