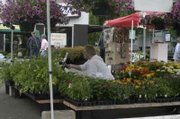 DALLAS -- The inaugural year of the Dallas Farmers Market lacked produce, but coordinators will give it another go next spring.
"(The customers) really enjoyed it and looked forward to it each week," Market Coordinator Judy Friesen said.
Friesen and her sister Janis Keuscher opened the market on June 7 in the parking lot of their downtown Dallas store, Plain & Fancy Gifts, at 740 Main St.
The market boasted as many as 12 vendors in the first weeks, but averaged between five and six as the season continued. Friesen said her busiest Saturday was during Summerfest in late July when she had 15 vendors.
Locals peddled plants and arts and crafts, but Friesen said local farmers weren't bringing the fruits and vegetables most customers expect to find at local markets.
"We didn't have as many produce people as we would have liked," Friesen said. "I think a lot were already committed to other places."
She said Dallas' market competed with roadside fruit stands and farmers markets already established in Independence, Falls City, Monmouth, Salem and at the Polk County Fairgrounds.
Peaches, blueberries and raspberries all made brief appearances at the Dallas market, but none as consistent as other vendors like Hamblin's Nursery that sold plants in June and July.
Planting conditions due to a cold, wet spring contributed to the late year for produce, which also didn't help, Friesen said.
The market's last Saturday for the 2008 season was Aug. 23. Friesen said the market will open again in the same spot next June depending on the weather.
The next event at Plain & Fancy Gifts will be an open house on Nov. 14-15. Local artisans will sell crafts, stained glass, quilts and woodwork in time for the holidays.