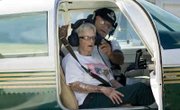 MONMOUTH/INDEPENDENCE -- Ginny Derksen, 65, shifted nervously from foot to foot, jingled the change in her pockets and looked at the metallic sleekness of Frank Addessi's Mooney airplane in front of her.
"Wait a minute, do I have to drive this thing?" Derksen asks, as Addessi opens the door and shows her to her seat -- one equipped with an extra steering wheel.
Derksen is getting ready to fly for the very first time in her life.
Behind Derksen are Katrina Howard and Christina Marston, staff members from Heron Pointe who are helping Derksen, a resident at the assisted living center in Monmouth, make her dream of flying come true.
"This is the biggest and the sturdiest plane," Howard assures Derksen, one of nine residents and staff who were taken for rides in airplanes by volunteer pilots Friday at the Independence State Airport. Andy Andersen, an Independence Air Park resident who at 85 is still a pilot, rounded up pilot friends who would make Heron Pointe residents' dreams come true.
Derksen says she had never had the money or the time to fly before. When health problems landed her at Heron Pointe seven years ago, she put her dreams to bed.
Last week, they woke up.
Fidgeting with excitement, Derksen asked about her parachute and was surprised to find she didn't need one. After Addessi explained how the flight will take place, Derksen has another question: "You aren't going to cut up and do wheelies up there are you?"
Addessi says that, unless she wanted him to, he would not perform any tricks. Derksen seemed relieved.
Instead, Derksen and Addessi taxied calmly down the runway, lifted off north into cerulean skies, turned south and then flew along the Cascade Mountains for about a half hour, over Albany, Corvallis and Lebanon. From the air, Derksen saw Three-Fingered Jack, the Three Sisters and Mount Jefferson, then as they came back, she saw Mount Hood.
Sliding out of the plane after her flight, Derksen said she would gladly do it again and for the next few minutes, she stayed to ask more questions about fuel, air speed and what causes the bumpiness in the air. Addessi, a pilot for about 40 years, smiled and answered all the questions.
Down the road, Marj Curtis, who is turning 87 in a few days, hopped in a two-seater Flight Design with pilot John Horn, a huge grin spread across her face. That was her birthday wish. Ken Walker, a World War II veteran who wanted to be a pilot but ended up being a Western Oregon University professor instead, got his wish to fly, paired with pilot Lynn McDonald.
Andersen said most of the pilots at the air park are retired themselves and were happy to help Heron Pointe residents.
"We even ordered good weather for it," Andersen said of Friday's mild morning conditions.